Key Features:
Bluetooth music streaming
Compact, cubed design
20W output
Three 5.25in speakers
USB port and 3.5mm jack
Price as reviewed: £230
TDK Sound Cube: Introduction and Design
Announced at the IFA trade show back in August, the TDK Sound Cube is, as the name suggests, a speaker system shaped like a cube with three 5.25in speakers mounted on the front, left and right sides, and three tweeters concealed in the upper corners.
The TDK Sound Cube can be paired to your smartphone or tablet over Bluetooth for wireless music playback - this feature uses the A2DP Bluetooth standard, which is commonplace on just about all portable devices of the last year or so.
Finished in black plastic, the Sound Cube feels sturdy and well-made, with a handle protruding from the top of the unit, making the speaker easy to carry from room to room, or to use outside with a long enough power cable.
The cones of the three subwoofers are finished in a faded gold colour which just about manages to stay the right side of attractive without looking tacky; two dials located above the front speaker are finished in the same colour.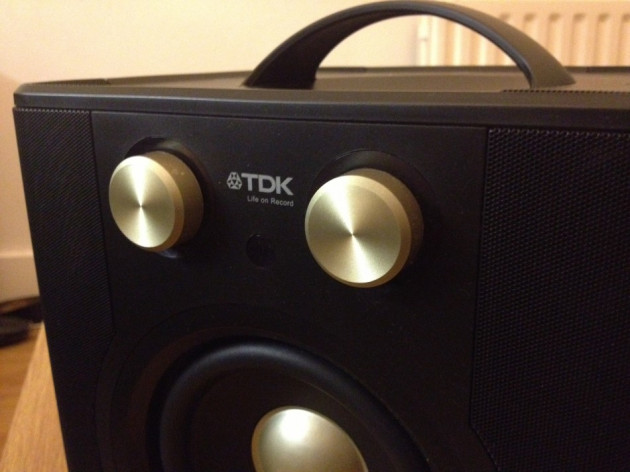 Given the Sound Cube's Bluetooth connection, there are no obvious ports or docks for your smartphone or MP3 player. Instead, hidden around the back you'll find a standard 3.5mm line-in to connect to your device's headphone jack (although a cable is not provided), along with a USB port for charging (30-pin iOS cable included), and the speaker's power cable.
All in all, the Sound Cube is a well made speaker system that is very compact, easy to carry around, and will connect to just about anything.
TDK Sound Cube: Setup
I've managed to go my entire life without playing music over a Bluetooth connection, so I was very pleased to find pairing the Sound Cube with my iPad was easy, once I'd worked out how the speaker's two dials worked.
Hit the right dial to turn the device on, turn it until the Bluetooth icon lights up, then press and hold the dial until you hear a beep. Meanwhile, turn Bluetooth on on your iPad or other device, wait for the Sound Cube to appear in the list of known devices, tap it, and you're good to go.
Once you've paired a phone or tablet to the speaker once, you don't need to do it again. If both are turned on (and Bluetooth is on) they will work together right away. When an iOS device is connected to the speaker over Bluetooth a new icon appears whenever you play audio, tap this to activate the Sound Cube, or switch the output back to the device's internal speaker.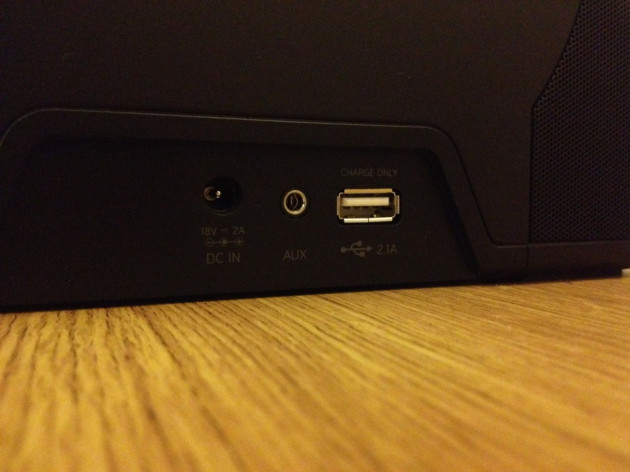 The Sound Cube's ability to stay connected to my iPad (albeit in a small flat) was good, although the sound stuttered a little if my iPad was doing something intensive; the music never stopped, but there was a noticeable stutter.
Having said that, it only happened a couple of times during the many hours I've spent with the Sound Cube, and a quick reboot of my iPad seemed to address the problem.
Finally, the Sound Cube comes with a very basic and cheap-feeling remote control. It's the kind of remote where the whole top face is a single piece of plastic rather than individual buttons and is something that will feel most at home hidden in the back of a drawer.
TDK Sound Cube: Sound Quality
For whatever reason, I wasn't expecting much from the TDK's sound quality. Perhaps I thought that money spent on the unique design and including Bluetooth would have led to less focus on sound, but I'm pleased to say I was wrong.
The sound quality of the TDK Sound Cube is great, filling a small-to medium-sized room with no problem at all, and providing a good blend of strong bass and precise high-range.
I was expecting such a compact device to produce very isolated sound coming from a single direction, but in testing it filled my living room without it being very obvious where the sound was coming from, and even placing the cube under a small table and against a wall didn't cause bass to become too overwhelming - something my Bose 2.1 system struggles with.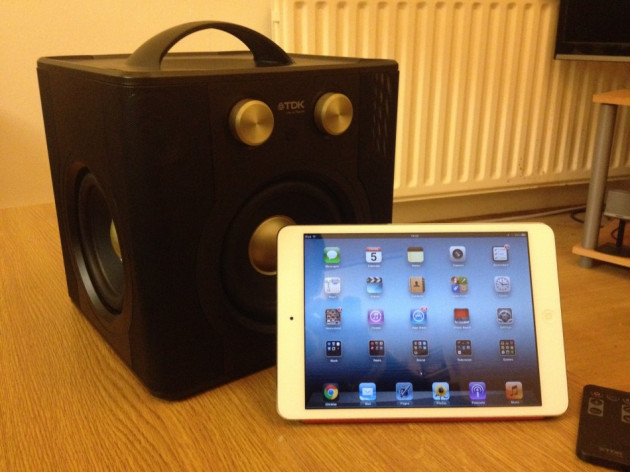 The Sound Cube isn't going to rival more expensive speakers for sound quality, but for £230 it offers enough for most users - besides, true audiophiles wouldn't be listening to iTunes quality music streamed over a Bluetooth connection anyway.
For the average consumer, the design - which I like, but it won't appeal to everyone - decent volume and the wireless simplicity will be more than enough to justify the price, and the unit could very well act as a replacement to any ageing CD hi-fi system lurking under the TV and gathering dust.
TDK Sound Cube: Verdict
Far too often, manufacturers strive to make speakers look more like works of art than audio equipment, so I like TDK's honesty in producing a product that is exactly what it says it is - a cube of speakers.
I found both the quality and quantity of sound to be surprisingly good, given the unit's compact size, and this gives you the option to tuck it away under your desk, or even hide it away from view, as once switched on and paired with a smartphone or tablet you need never touch the unit again.
The quality of streaming music over Bluetooth was an issue at first but, as I said above, a quick reboot of my iPad completely solved this.
At £230 the TDK Sound Cube is about the same price as the excellent Bose Companion 3 desk speakers I normally use, but where the Bose system wins on overall sound quality and loudness, the Sound Cube has the upper hand with its compact size, Bluetooth connection and more refined bass.
Scores:
Design: 8/10
Build quality: 9/10
Sound quality: 8/10
Value: 8/10
Overall: 8/10
The Good:
Compact and portable design
Very easy to pair with smartphone or tablet
Sounds surprisingly good
The Bad:
Not-so-subtle design won't appeal to everyone
Remote feels cheap
Controls could be simpler