At the launch of the first-ever London Technology Week on Monday, Mayor Boris Johnson claimed that London had established itself as Europe's technology capital and is now burgeoning at such an astonishing rate that it is even besting San Francisco's Silicon Valley in terms of growth.
"London's tech sector, despite only being in adolescence, already makes a tremendous contribution to our economy and is outperforming our rivals around the globe," Johnson said.
The mayor cited research commissioned especially for the week which predicts London's digital tech sector will create an additional £12 billion of economic activity and 46,000 new jobs in the capital over the next decade.
Yet despite all of these grand claims, London is yet to produce a single multi-billion pound tech company capable of competing with the likes of Google, Facebook or Amazon. Indeed, the successful startups that do spring up from London are often taken over by these tech giants before they get the chance to become a major success on their own.
Earlier this year, London-based artificial intelligence company Deep Mind was bought out by Google for $400 million, while last year Facebook acquired Monoidics, a startup from London's 'Silicon Roundabout'.
Such deals led to comments from some industry insiders that UK companies were being forced to "sell their souls" to American firms due to a lack of opportunity to develop further in London.
No 'knock-out' business yet
Johnson himself acknowledged this issue when faced with questions from reporters on Monday about over-exaggerating London's tech credentials.
"We haven't yet produced the kind of knock-out multi-multi-billion pound business of the kind they produce in Silicon Valley," Johnson admitted. "We need to explore the reasons why that might be so.
"Is it a certain British diffidence about making billions of pounds? Is it that we don't have the right kind of kick-ass business people here in London? Is it that the banks and the venture capital industry aren't as imaginative and as proactive as they could be? We need to think of the reasons why we're not yet knocking the rest of the planet out of the park."
Speaking with IBTimes UK after the launch event, CEO of Tech City UK Gerard Grech spoke of the issues facing London in its quest to become a global leader in the tech industry. However he remained adamant that the policies and infrastructure to achieve this status are already in place.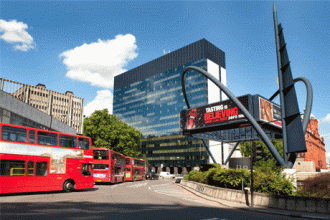 "One of the things that there's a lot of talk about is access to talent and access to skills," Grech said.
"This government is doing a lot in ensuring that the pipeline is as full as possible - from exceptional tech talent visas, to ensuring that coding is in schools so that we are building a generation of analytical thinkers and not just programmers.
"Another thing is obviously capital, but we've seen in some of the figures that we've seen a lot of capital come into the city in the last year or so, so that is getting addressed. We're well on our way and we've seen a real inflection point in funding."
United tech kingdom
Grech argues that in order to compete with the likes of Silicon Valley, London should be combining with other tech clusters across the UK - including Newcastle's gaming industry, Manchester's media hub and Southampton's artificial intelligence sector.
This sentiment is one echoed by Irfon Watkins, CEO of Bristol-based adtech startup Coull.
"I'm very keen to look at how we make sure that we're also positioning the whole of the UK as a digital powerhouse at the forefront of the digital innovation, and that means connecting with other tech clusters around the UK," Watkins told IBTimes UK.
"There is far too much focus on trying to artificially create a tech hub within our capital. Business and innovation is an organic thing, and trying to force either will only hinder progress in the long run, not nurture it."
Striking out from the mould built on the success of Silicon Valley through such collaboration could be the key to London's future as a global tech leader.
"London's Silicon Roundabout and all the other tech hubs in the UK are falling victim to the same basic mistake," Watkins concludes, "namely trying to replicate rather than emulate Silicon Valley."