Technical analysis: Gold off lows after plummeting on China news, yet $1000 is likely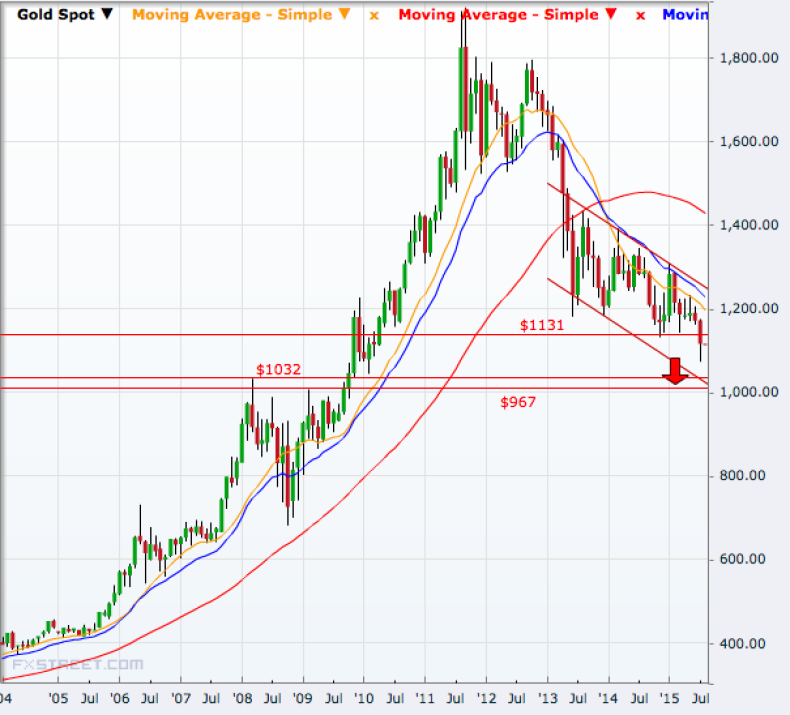 Gold plunged to a new five-year low early on Monday in Asia on Chinese holding news, but strong support just above the $1000 mark helped the metal stabilise by mid-morning in Europe.
Charts suggest the fall to the psychologically important $1000 is likely, unless the metal fails to bounce back above $1130 in a decisive manner.
The yellow metal slumped to $1072, its lowest since March 2010, from the previous close of $1172, making a 5.5% decline on the day. At the low, gold was down more than 8% on the month and 9.5% down so far this year.
At 10.30am GMT, gold traded at $1114. Beyond $1130, $1200 will remain as a strong resistance barrier for the yellow metal keeping downside risks towards $1000 alive.
People's Bank of China, the Chinese central bank, reported on Friday that its gold reserves were up 57% to 53.32 million troy ounces, making it the fifth largest holding, according to a WSJ report.
The Chinese news triggered stop losses and hedge funds cleared their positions, said Yann Quelenn, Market Analyst at Swissquote.