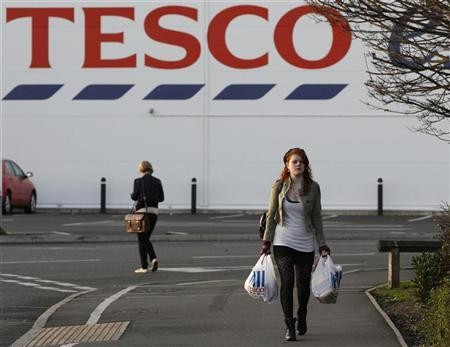 Tesco Plc has posted its first trading profit loss in nearly 20 years despite better-than-expected sales growth in its key UK market amid one of the deepest recessions in a generation.
Britain's largest retailer reported a 0.1 percent rise in quarterly sales in its home market for the period ending late August, reversing the sharp 1.5 percent slump it suffered earlier in the year that led to its first decline in profits for 18 years.
Overall group sales - including overseas markets - rose 1.4 percent to £36bn and headline pre-tax profit figure for the six months ending in August fell 11.6 percent to £1.7bn, in-line with analysts' expectations but the first fall in nearly two decades. International group profit fell 17.1 percent, as expected to £400m
"The external environment continues to present challenges all over the world. Whilst our businesses in Asia and Europe have continued to do a great job for customers, our financial performance there reflects the tough economic backdrop and particularly the regulatory changes in South Korea," said CEO Philip Clarke.
"That we have gained or held market share in the majority of markets is a testimony to the skill of our teams across the group."
Tesco said last spring that it was planning a £1bn investment programme to arrest the persistent decline in UK market share. The programme led to a one-notch cut (to Baa1) in its credit rating by Moody's Investors Service, which came eight days after the company issued a rare profit warning that wiped around £2.5bn from its market value.
Tesco is earmarking £1bn in capital and staffing improvements in the UK business, the company said, including a direct £400m in capital investment. The plans include adding 8,000 new staff in existing stores and creating a net new 20,000 jobs over the next two years, the company said.
About 430 UK supermarkets, nearly a quarter of its entire floor space in Britain, will be addressed in the overhaul while its online offering of non-food items will be doubled to 80,000 by Christmas.
Tesco shares fell around 1.3 percent in early London trading to change hands at 332.2 pence each. The shares have risen 12 percent since hitting a three-year low of 297 pence in early May.
J Sainsbury Plc, Britain's third-biggest food retailer, said sales grew by 1.9 percent for the 16 weeks ending on 29 September, better than analysts had anticipated and helping the group maintain an unbroken run of quarter sales growth that stretches back to 2005.
Retail sales volume in Britain fell by 0.3 percent - excluding fuel - in August, the Office for National Statistics (ONS) said as the London 2012 Olympic Games failed to boost consumer activity in the beleaguered sector. Retailers have been hit by depressed consumer confidence and had hoped that London 2012 would give them a much-needed shot in the arm. They will now look to make the most of the festive season.
"Feedback from online retailers suggests that sales were lower as consumers watched the Olympics instead of shopping online," said the ONS. The agency also noted a definitive contribution from the sale of football shirts as Britons added replica kits to mark the start of the Premiership and Champion's League seasons.
Sainsbury's shares were also trading in the red despite the better-than-expected sales figures. Total group sales (as opposed to the headline "like-for-like" sales that measures outlets open for at least one year) rose 4.3 percent, the company said, while its online retailing unit saw more than 20 percent growth.
Internet sales made up 8.1 percent of all British retail sales in August, a fall of 0.9 percent on the previous month as Britons' eyes stayed glued to their television sets rather than computer screens. Research produced before the official data emerged showed that online retail sales had suffered during the Olympics. Capgemini UK and Interactive Media In Retail Group (IMRG) found sales at online retailers had plunged by 11 percent in August.
"This has been a unique and special summer, during which we have delivered another quarter of good sales, outperforming the market in what remains a challenging retail environment," said Sainsbury's CEO Justin King. "We expect the challenging economic backdrop to persist, but by helping our customers to 'Live Well For Less' through competitive pricing, targeted promotions, quality own label products, and outstanding customer service, we are positioned to perform well coming into the important Christmas period."
Sainsbury's shares fell around 0.5 percent at the open of London trading to 345 pence each. The shares have risen around 13.5 percent so far this year.