Thailand's baht rallied to an eight-month high against the US dollar on positive surprise in the export data, but with increasing downside risks to the economy, the currency may soon meet stronger resistance levels.
The USD/THB dropped to 31.9150 on Monday, its lowest since late November last year, down 0.7% from Friday's close.
Thai exports rose 7.2% in June from a year earlier, Junta leader Prayuth Chan-Ocha said. That would be the first increase in four months and way above the market consensus of 3.1%.
The baht has been on a rising trend since end-May, when the pair touched a four-month high of 32.895, and has strengthened more than 3% since then.
From the end-2013 level of 32.725, the Thai currency is 2.5% stronger.
Fundamental Outlook
The Bank of Thailand projects slower economic growth for the country and the downside risks may also hit the baht's strength.
"In 2014, the Thai economy was poised to expand at a significantly lower rate than previously projected, owing to much weaker economic momentum in the first quarter of the year, where private spending softened in line with the economic slowdown," the June monetary policy statement showed.
The Thai trade performance is expected to be much weaker going forward, as import growth will outstrip exports, according to the central bank estimate.
In its June monetary policy statement, the BoT projected a current account balance of $11.7bn in 2014 but a sharp decline to $1.1bn in 2015.
The BoT has been keeping its main policy rate, the one-day repo rate, at 2% for the past three rate decisions. It sees inflation quickening in the coming months.
"Inflation expectation began to stabilise after some declines in previous periods. In April, businesses' month-ahead inflation expectation stood at 3.0%," the statement said.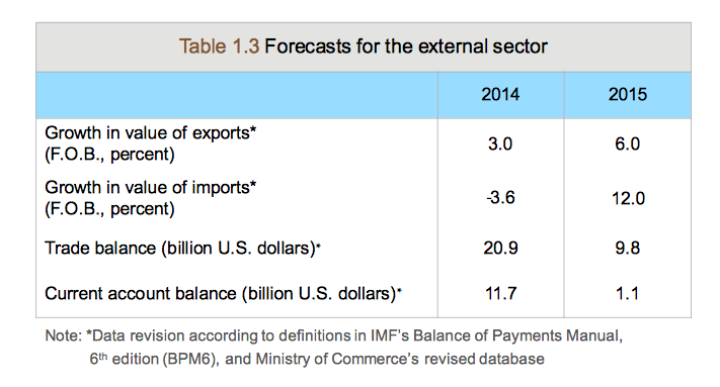 USD/THB Technical Outlook
The pair is keeping a broad downward trend since January, and with the 21 July fall, it has broken below the 23.6% Fibonacci retracement of the April 2013 to January 2014 rally.
The chart shows two likely steepness cases for the downward channel: according the steeper one, the pair has further room to the downside barrier while it has already met it according to the flatter one.
The steeper channel shows a support barrier of 31.575, a break of which will take the pair to the 38.2% level and open the doors to 30.875, the very important 50% line.
On the higher side, the two levels to watch are 32.340 and 32.650 ahead of the June peak of 32.895. A break of that will lead to a retest of 33.150 the near four-year high touched in January.