Thailand's consumer confidence dropped to a 22-month low in November as the movement to topple Prime Minister Yingluck Shinawatra threatens to derail southeast Asia's second-largest economy, including its tourism industry during the festive year-end.
The consumer confidence index slipped to 75.0 in November from 76.6 in the previous month, according to a poll by the University of the Thai Chamber of Commerce (UTCC).
The November reading marked the eighth successive month of declines.
Consumer sentiment was also pulled down by weaker economic growth and downbeat forecasts. The downward trend is expected to continue for some months, UTCC added.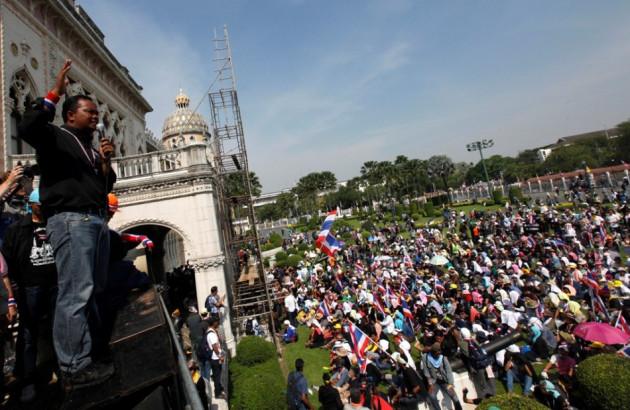 On 3 December, anti-government protesters declared victory against Yingluck after authorities removed barricades around the police compound in Bangkok, allowing access to the demonstrators.
Bangkok's police chief Kamronwit Thoopkrachang said the protesters were welcome to stay inside the compound indefinitely and vowed to protect them from any violence emerging from a "third party".
Rising street violence has disrupted companies' operations and has resulted in the cancellation or deferral of business events, which is expected to weigh down on consumption.
"Confidence was hurt by many factors; slowing growth and high living costs plus the political situation. There is no sign of confidence recovering and spending is likely to remain subdued until early next year," said Thanavath Pholvichai, director of the UTCC's Center for Economic and Business Forecasting.
"Consumer confidence may remain under the weather in the near term given a double whammy of slowing growth momentum and ongoing the political situation," said Bernard Aw, an economist with Forecast in Singapore.
"The protests are likely to affect economic activity going forward," he told Reuters.
Economic Fallout
The Finance Ministry on 3 December lowered its economic growth forecast for the year to 3% from 3.7%, saying political instability had affected tourism and budget payouts.
The Thai baht dipped slightly on Tuesday to finish at 32.19 to the US dollar.
The Bank of Thailand unexpectedly cut interest rates late November to shore up declining economic growth, and it too predicts a 3% annual GDP growth rate.
The Thai economy expanded by 1.3% in the July-September quarter, over the preceding quarter. The markets had expected a 1.7% growth rate.
The third-quarter reading also marked the first expansion in three quarters.