Arsenal forward Theo Walcott has refused to be pulled into talk of another title challenge as they have been in this situation before but failed to live up to expectations as the season came to a close. The Gunners decimated Chelsea 3-0 in the opening half, with Walcott scoring their second to mark his 350th appearance for the club, and kept a clean sheet in the second period to end a satisfying night at the Emirates.
The win has taken the Gunners to third, one point behind arch rivals Tottenham Hotspur and five behind leaders Manchester City, who beat Swansea 3-1 to secure six consecutive wins under Pep Guardiola in the league. Alexis Sanchez and Mesut Ozil scored the other two goals while defenders Laurent Koscielny and Shkodran Mustafi did well to keep Diego Costa out, having had a player sent off owing to the Spaniard on each of the last two occasions.
However, Arsenal have been in situations like these before, having beaten Manchester United 3-0 at the Emirates last year and were top of the table in January before succumbing to yet another mid-season collapse, ending the season in the second spot, 10 points behind Leicester City. However, Walcott believes that they can only take on what is in front of them and has urged the team to put in a similar performance in the rest of games if they have to have any chance of winning the title.
"You know what, we've been here before. I've had so much experience in the years, but like I say, we're not doing ourselves any harm. We just want to keep on doing our business, that's all we want to do," Walcott told Arsenal's official website.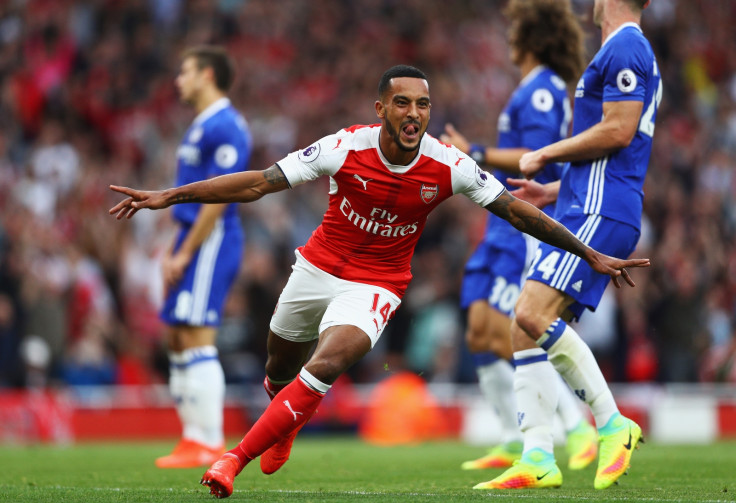 "We want to try and improve and see what the negatives were in the game, I'm sure there'll be a few. We always wanted to keep a clean sheet, if we keep clean sheets we're going to win games because we can score goals up front, so you've got to give credit to everyone today."