Ten years ago today, a fresh-faced Theo Walcott arrived at Arsenal. Still looking rather more fresh-faced than most of us did at 26, he is continually enhancing a reputation that has loomed large ever since he left school.
Unfulfilled potential for some is an unfortunate but inevitable facet of the game. Ask that question of Walcott and you will likely collect arguments from both end of the spectrum. A look at his base statistics – 326 appearances, 81 goals (many of those from a wide position,) 78 assists and two FA Cup triumphs – suggests he has done that, but the injuries that have curtailed him at the most inopportune moments in his career inevitably raise thoughts of what could have been.
Walcott's career as an England international has been underwhelming. The bizarre decision from Sven-Goran Eriksson to include him in the squad for the 2006 World Cup before he had kicked a ball for the Gunners remains mind-boggling to this day. Four years later, Fabio Capello chose to omit him from a squad that also included Aaron Lennon and Shaun Wright-Phillips, while in 2014 he was robbed off a place due to injury. His brightest hour for England came in scoring that memorable hat-trick away in Zagreb that toppled Croatia in 2008 – making him the youngest ever player to net three in a game for the Three Lions. But there has been little of that ilk since.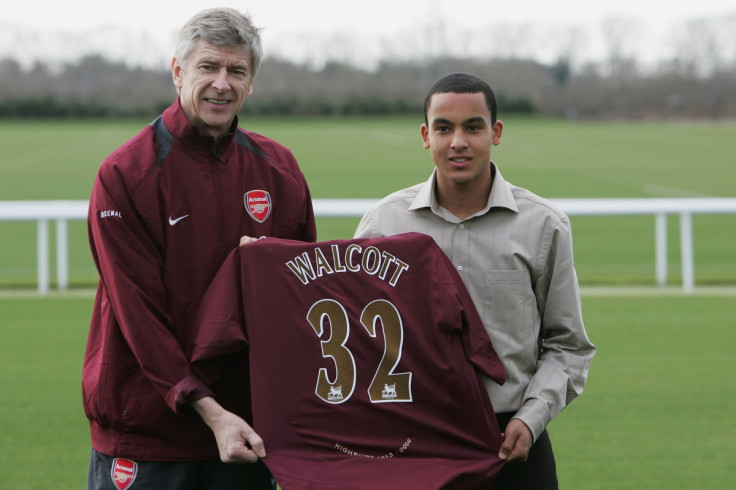 None of that matters as far as his development at Arsenal is concerned. Relative of the tired phenomenon of young players being written off too early, it seems strange to call time on a footballer's development at the grand old age of... 26. Ask the question has Walcott fulfilled his Arsenal potential when he is 30, not when he is just beginning to reach his peak years.
While he is currently the Gunners' longest serving player, Walcott's transformation is still very much a job on the go. And his determination to become a potent force in attack is laudable. The work put in by Walcott, Arsene Wenger and the Arsenal coaching staff to engineer this evolution is now playing dividends, and the results were clear in his devastating performance against Manchester United.
In the no. 9 role, he terrorised and bewildered Louis van Gaal's hapless side. Pace and direct running, the traits that have been with Walcott since day one in North London, were combined with the movement and composure of a seasoned veteran in front of goal, an extraordinary package deal for Arsene Wenger. It wasn't a one-off, either.
Having been under the public eye since his mid-teens, Walcott has excelled when so many others have been chewed up and spat out by English hype machine. At 26, his trajectory his only at its half-way stage, as acknowledged by the man who has guided him over the past decade.
"Theo is very intelligent. He always had pace and his movement off the ball was always perfect," Wenger told Arsenal's official website. "I think he is much more conscious of teamwork and he has improved as well in his finishing.
"He is absolutely deadly compared to 10 years ago. He needed many chances to score a goal and he can finish very well. His final ball and his technique are much better.
"Ten years here, that shows as well that he loves Arsenal and I'm convinced he will give us much more in the next five years than the last five because he is a player who is always moving forward and trying to do better."
Walcott remains an enigmatic figure, whose development has perhaps encapsulated the frustrations his club have endured over the past 10 years more than any other. But like Arsenal's, his growth has shown little sign of slowing down.