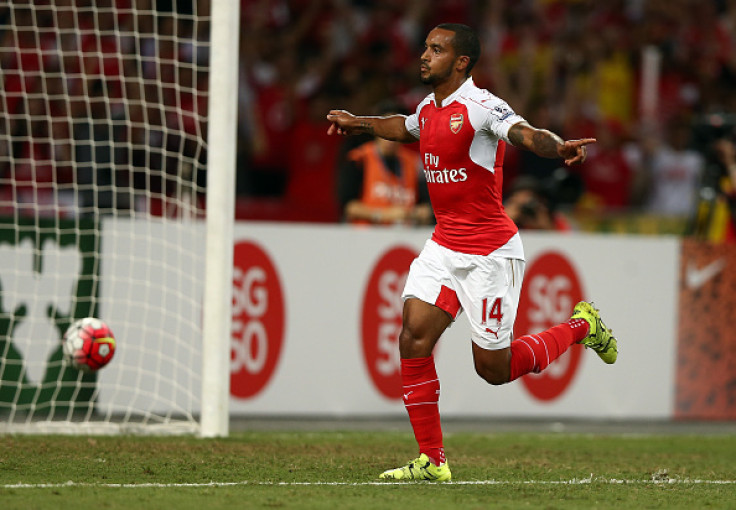 Arsenal forward Theo Walcott believes that he can play in any position in the front three but insists that he can be more potent down the middle where Arsene Wenger has been using him sparingly this season. The 26-year-old signed a new four-year contract with the Gunners which would see him at the club till 2019, and is now looking to add more goals to his tally to substantiate the faith reposed in him by the manager.
Walcott, who was majorly deployed on the right for a major part of his career at the Emirates, reveals that on the right he has more defensive duties burdened on him, like having to track a runner. However, he prefers it through the middle where he can stretch defences by moving around the place and making runs in behind.
The England international drew a blank against Newcastle before the international break but is confident that he can get on the scoresheet this season, with his last goal coming in the previous season in the FA Cup final where he scored the opener to open the floodgate for a comfortable victory for the north London club. He has started on the bench in three of the last four games but insists that he is open to playing in any position the manager deems him right.
"Up front you can do things by just movement. At times you're not involved in the games but you are. Some people may think, 'Oh he hasn't touched the ball for 15 minutes' but you're moving all the time, taking players and creating space for team-mates," Walcott told Arsenal's official website.
"That's what strikers need to do at times, not just to always come for the ball and lay it off. You need to stretch teams, which will give our midfielders more space, more opportunities and more goals. That's what you want in the team.
"I think you'll see a mixture of me playing in those three positions, on the left, right and centre, depending on how the game is and who the opposition is. That's why the manager is the best man to pick his team. I've shown the manager what I can do on the left, right and centre," he added.