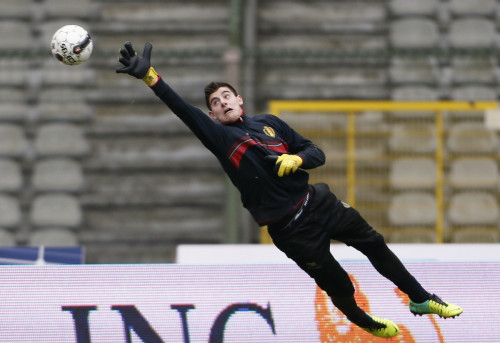 Chelsea goalkeeper Thibaut Courtois will stage talks with the Premier League leaders ahead of making a decision over his future after a third successive season on loan at Atletico Madrid.
The Belgian stopper has never made a professional appearance for the Blues, having spent the past two and a half seasons at Atletico.
Courtois has enjoyed plenty of success in the Spanish capital, winning the Copa del Rey last season while this campaign has seen the club stage an unlikely bid to win the La Liga title.
However, with Petr Cech showing no signs of dropping his standards at Chelsea, Courtois' future opportunities at Stamford Bridge are unlikely to improve.
Father Thierry Courtois said: "We have a meeting with Chelsea and we will be talking about everything with them.
"It is too early to make a definite decision yet. We have to negotiate with Chelsea.
"Thibaut has been doing very well with Atletico but there are still three months of the season to go, and a lot can happen in that time."
Though Courtois is now among the highest rated 'keepers in Europe, Jose Mourinho is still to make a definitive stance over the Belgium international's future and hinted last week the club would be content with offloading their young players for a substantial profit.
"Chelsea made great investment in the past and in some moments were also a bit criticised because we did so much. But things change," he said.
"Chelsea adapted well to the situation. When you see De Bruyne, who played three or four matches, give us a big profit, there are other players who maybe don't play a single match for Chelsea and we will look to sell them at a profit.
"We have had to organise ourselves in a different way. Before me, Chelsea did fantastic work in this level: Lukaku, De Bruyne, Courtois, young [Thorgan] Hazard and [Lucas] Piazon.
"Not all of them will have a career at Chelsea but all of them are important in this new financial organisation. So Chelsea worked very well and probably started doing that before other clubs.
"Because of that, even if FFP comes into practice, I think Chelsea are very advanced."