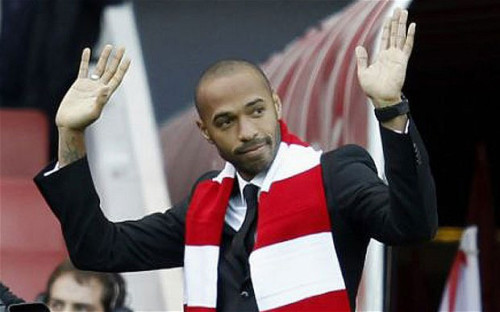 Thierry Henry has admitted he would love to take over the managerial position at Arsenal when Arsene Wenger decides to retire from the post.
As Wenger reportedly discusses a new contract with the Gunners to take the Frenchman beyond the next summer with the club it would appear that he will be around for a while yet but Henry has often spoken about his love for the side and desire to return in some capacity.
And the New York Red Bull striker, who is now 36 years of age, says that managing the club where he became a star would be a dream come true, though only if it takes place after Wenger decides to leave.
"The thing is I have so much respect for Arsene, and if it does happen eventually, one day, it is going to have to be after him," he said on the Graham Norton show.
"I don't actually want to talk about it right now because he is doing such a great job, but hopefully after him, yes."
Henry also admitted that he cried when he left Arsenal with the former France international sealing a deal to Barcelona in 2007, explaining: "It was hard and I cried - it wasn't an easy thing to do.
"But the team wasn't going the way I wanted it to. I don't regret leaving."
Henry went on to win multiple trophies with Barcelona before making the move to New York where he will likely play out the rest of his career. The hitman did make a return to Arsenal though in January of 2012, much to the delight of Gunners fans, while on a loan spell from his parent club.
And with a statue out the front of the Emirates of Henry he would certainly be welcomed back by the Arsenal faithful once more should he be a candidate to replace Wenger in the future.