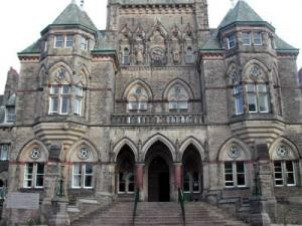 Three men have been arrested following allegations of sexual assault and false imprisonment at an Islamic girls school in Lancashire.
Police said the arrests followed reports about the welfare of teenage girls at the Jamea al-Kauthar school in Lancaster.
A 40-year-old man from Bolton and a 30-year-old man from Blackburn were arrested on suspicion of sexual assault and false imprisonment. A 53-year-old man from Blackburn was arrested on suspicion of false imprisonment.
All three were being held in custody.
Lancashire Police said: "We are still at the very early stages of the investigation and our aim is to respond to the concerns raised proportionately, in a measured way and with sensitivity.
"Searches at the school are being conducted by specialist female officers and are being carried out as quickly as possible to ensure minimum impact.
"We are working closely with the school and the local authorities to establish the circumstances around exactly what has taken place and we have specialist officers supporting the victims."
Police have not released any further information regarding the investigation.
A spokesman for Jamea Al Kauthar said: "The school is aware of the allegations that have been made and is fully cooperating with the police investigations into the matter. We expect the matter to be cleared up soon."
The secondary school was established in 1996.