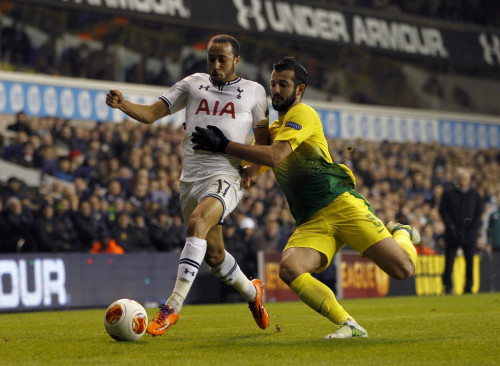 Tottenham Hotspur winger Andros Townsend is set to make an imminent return to the first team after coming through the Under-21's win over Newcastle United on Tuesday.
The England wideman scored one and made another for Souleymane Coulibaly and was replaced at half-time as a precaution as Spurs went on to win 4-1.
Townsend's return comes as a surprise after manager Tim Sherwood had expected the 22 year old to be out for "considerable time" after picking up a hamstring injury in the League Cup loss to West Ham United.
The former Leeds United and Queens Park Rangers loanee's return is timely, with Tottenham facing a decisive run of games against those sides competing for a Champions League place.
After facing Swansea City this weekend, Tottenham welcome Manchester City before a trip to Hull City precedes games against Everton and Newcastle United and the resumption of the club's Europa League campaign.
Townsend's injury recovery also comes at an important time for his World Cup hopes, with the final friendly prior to Roy Hogson confirming his England's squad for the summer finals in Brazil against Denmark in early March.
Before injury halted his season, Townsend's form had notably tailed off but Sherwood is predicting an upturn upon his return.
"Andros backs himself to be better than anyone else in the world that is the sort of character he is. He needs to get himself fit and firing again and I am sure you will see the best of it," said Sherwood.
"I have known him since he was a kid and he is a good lad. He is a top trainer and he wants to be playing in every minute of every game, but he will get his opportunities and I am sure he will be productive between now and the end of the season for us.
"He wants to play wide and attack people," the Tottenham boss added. "Wherever you put him on the pitch he will try and take people on.
"He can still learn from others and Aaron (Lennon) for instance at how to be more responsible when you are tracking back. Also other players can learn from Andros at how direct you can be at times as there's no point playing safe. The kid doesn't know how to play safe. He wants to put people on their backside and does it a lot of times.
"He can learn more, but who are we judging him on? We are not judging him against Bale or Ronaldo at the moment, but you can certainly judge him against anything in the England squad."