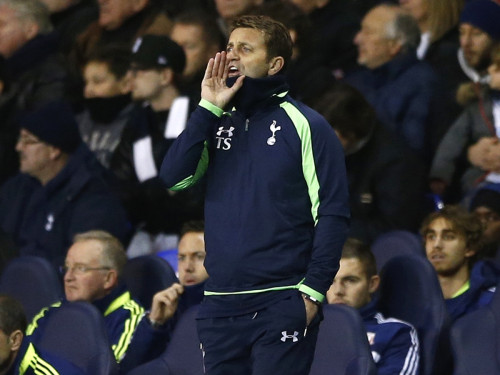 Tottenham Hotspur manager Tim Sherwood has admitted that he could face the sack if the north London club fail to finish in the top four this season.
The White Hart Lane outfit are sitting fifth in the league table with 43 points with 22 games, level on points with fourth place Liverpool and leading Everton by two points. However, the Toffees still have a game in hand and a victory there could then see Spurs drop to sixth in the table.
Spurs chairman Daniel Levy showed the exit door to Andre Villas-Boas after the Portuguese manager endured a poor run in the league late last year. Sherwood replaced the former Chelsea boss at the Lane and believes that he could follow his predecessor in the summer, if his side fail to make it to next season's Champions League.
"We know there are going to be tougher tests ahead, but it's been a good start for me. If the season were to end tomorrow I don't think the chairman [Daniel Levy] would be too happy because we are fifth," Sherwood explained.
"The final league position has to meet the expectation of the club otherwise it's ''goodbye Charlie''. The club needs to finish in fourth place. Anything other than that will be a disappointment but realistically we should be in amongst it."
Meanwhile, Sherwood has heaped praise on Emmanuel Adebayo for his brilliant form in recent times. The former Arsenal and Manchester City striker's double and a Chico Flores' own goal saw Spurs register a 3-1 away win over Swansea City.
Adebayor was not given first team opportunities under Villas-Boas. However, the 29-year-old has been in fine form under Sherwood, scoring six goals in seven games played in all competitions.
"I haven't said anything to him, I have just given him the stage to play on. He hadn't had that stage for a while. I haven't made Emmanuel Adebayor a good player, I think we already know he has been a good player at every club he has been at," Spurs manager said.
"There's been no magic wand from me. He has always been a good player. He has a smile on his face, is scoring goals and is enjoying it," he concluded.