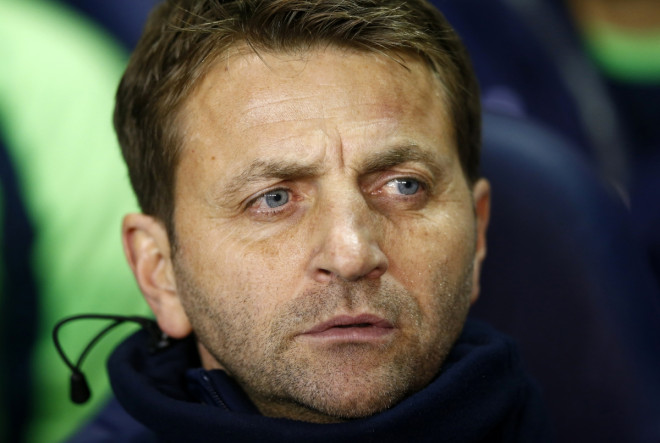 Tottenham Hotspur manager Tim Sherwood has attempted to strengthen his position at White Hart Lane by claiming chairman Daniel Levy is supportive of the current regime while calling into question the appointment of a foreign manager including Ajax's Frank de Boer.
Though current Netherlands coach Louis van Gaal is favourite to replace Sherwood at the end of the season with Spurs expected to finish outside the Champions League places, De Boer has previously been mentioned as a candidate for the role.
Since replacing Andre Villas-Boas as Tottenham boss on an 18-month contract, Sherwood has won 10 of his 21 games in charge but the club trail Arsenal and Everton in pursuit of a place in next season's premier club competition.
But Sherwood says he continues to have the support of chairman Levy and that Tottenham should resist from making sweeping changes and bringing in an unknown boss such as De Boer.
"He [Levy] wants the club to do well," Sherwood told The Independent. "He really, really does. He cares for the club. And I believe he wants me to do well. I would like it [the contract] to be 10 years but I am realistic enough to know this is a dress rehearsal. I am untried.
"What I would say is there is no guarantee [about the alternatives]. Someone could win 19 trophies elsewhere and they might not fit at Tottenham. The club has to fit the manager and you don't know until you bring them in. But they have a better idea with me than with anyone else.
"Frank De Boer is an interesting one because he is an Ajax man, and everyone employed by Ajax is an Ajax person. Try to emulate what he does there, bringing the kids through at Tottenham? Fantastic, wish we could do it. You have to educate the fans to do that first and foremost. The fans at Tottenham want signings, they always have since Ossie Ardiles' time."
Van Gaal is expected to be confirmed as the new Tottenham manager after the World Cup finals, with his contract due to expire with the Dutch national team. Former Chelsea manager Ruud Gulilit says the 62 year old's move to north London is a "done deal".