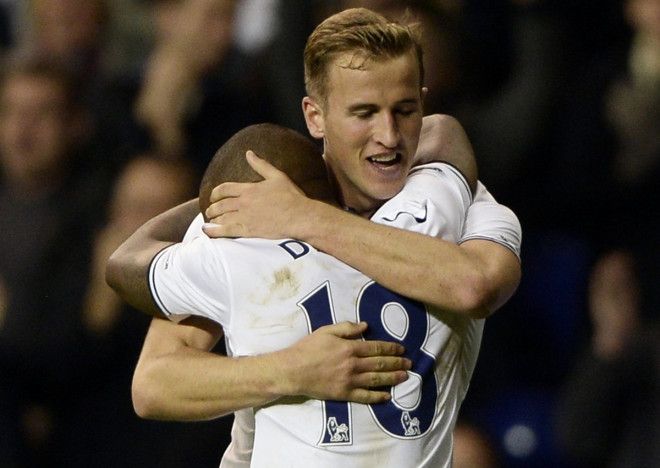 Tottenham Hotspur manager Tim Sherwood has backed Harry Kane to play a supporting role in the club's attempts to qualify for the Champions League in the absence of Jermain Defoe.
Defoe has joined MLS club Toronto FC and leaves Spurs with only Emmanuel Adebayor and Roberto Soldado in their attack heading into the final 10 games of the season.
Having been unable to recruit a new forward in the January transfer window, Sherwood is forced to place his trust in Kane as Tottenham attempt to break into the top four.
"We're looking forward to them [Soldado & Adebayor] building a bit of confidence but I must say Harry Kane's been brilliant," Sherwood admitted.
"Since he's been back as the third striker he's been fantastic in training. He's had to be very patient. If I was him I'd be banging my door down every day but he's respectful enough to know we have world class strikers.
"Soldado and Adebayor are world class. He'll get his time but it must be very frustrating to not get as much football as you'd like."
Kane made just his fourth league appearance of the season in the 1-0 win over Cardiff City and has made just one start this season, with the majority of his performances restricted to the Europa League and Capital One Cup.
The England under-21 international spent last season on loan at Norwich City but an injury plagued campaign spell saw him make just one league appearance at Carrow Road while he netted two goals in 15 appearances at Leicester City.
The former Leyton Orient loanee scored his only goal of the season in the League Cup against Hull City in October but can expect further opportunities as Tottenham enter the last 10 league games of the season.
Tottenham currently trail fourth place Manchester City by four points but with the League Cup winners having two games in hand, Arsenal and Liverpool –who are six points ahead - are the club's realistic target.
And Spurs face a pivotal run of fixtures in their attempts to close the gap, with games against Chelsea, Arsenal, Southampton and Liverpool before the end of March.