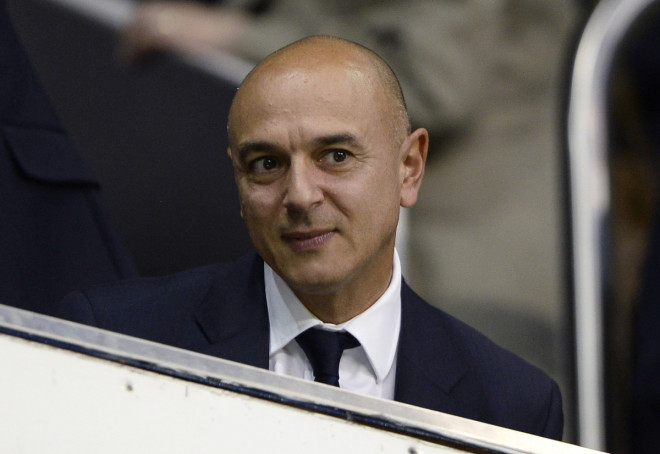 Former Tottenham Hotspur midfielder Jamie Redknapp wants director of football Franco Baldini and chairman Daniel Levy to share the blame for a torrid season at White Hart Lane amid reports Tim Sherwood will be sacked at the end of the campaign.
With Spurs eight points adrift of the top four ahead of the visit of Sunderland on Monday, reports have emerged that the club will part ways with Sherwood just a third of the way into his 18-month contract, after nine defeats in his 22 matches in charge.
Netherlands coach Louis van Gaal has been heavily linked with replacing Sherwood after the 2014 World Cup but Redknapp says that, given none of the seven players signed last summer to replace Gareth Bale have made a sufficient impact for Tottenham this season, both Baldini and Levy should be held accountable.
"He [Sherwood] was put into a position that wasn't easy from the start," Redknapp told Sky Sports. "Some of players that were signed at the start of the season haven't been good enough as well.
"What tends to happen is the managers take the brunt of it. One person, the one who is sitting there who has brought the players, Franco Baldini and Daniel Levy - they have to take some responsibility as well. Who has really come in and made an impact?
"If Sherwood does leave at the end of the season how can someone like a director of football like Franco Baldini still keep his job? I find that amazing. Young managers get the sack and the people who bring the players in don't take any responsibility. It's a route Daniel Levy took a few years ago and it didn't work, then they decided to change it."
Levy initially ditched the director of football model at Tottenham before reincorporating it during Andre Villas-Boas' reign in charge. However the change in structure has yielded limited success, with the Portuguese boss sacked in December following the 5-0 defeat to Liverpool.
Though Van Gaal and Southampton manager Mauricio Pochettino have been linked with a role, Redknapp says a complete change of structure at Tottenham may be required.
"It doesn't surprise me," he added. "I don't know how many managers he's [Levy] been through now in his time there but he does enjoy sacking managers and sometimes you got to look to the people close to you that aren't always the managers. Sometimes it's the setup.
"If you're going to have a director of football he's got to know what he's doing, he's got to bring in the right players but at the moment it's not really working. I think Daniel Levy enjoys buying the players too and I think that's a problem."