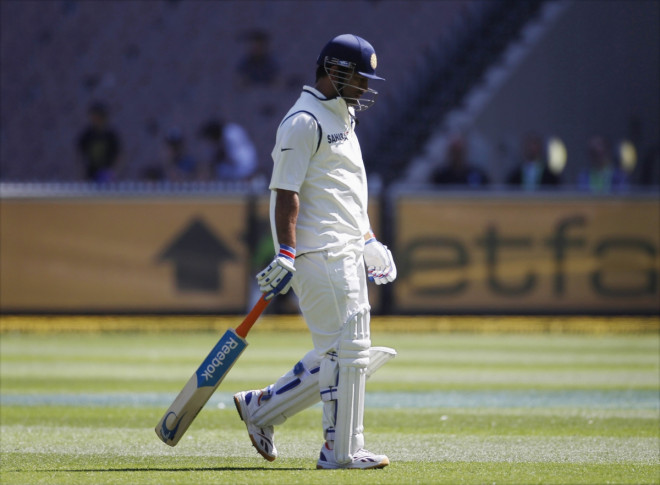 MS Dhoni, one of India's most revered captains, has been the subject of fierce criticism following their abysmal tour in New Zealand which saw the world champions fail to register a single victory down under.
The man who brought tears of joy to the nation after lifting the World Cup in 2011 stood helpless as the Black Caps won the One-Day International and Test series by a combined score of 5-0. The latest setback came after a disappointing tour of South Africa, resulting in many fingers being pointed at Dhoni's ability to lead India in Test cricket, especially on their travels.
Under the 32-year-old's tutelage, India rose to become the best Test team in the world during the period up until 2011. However things have not gone so well since then; thrashed by Australia and beaten by England home and away, they currently sit below South Africa and Australia at number three in the Test rankings.
What exactly went wrong? Is Dhoni now unfit to captain the side in Tests? Does he not have the composure to take the game head on while playing on foreign lands?
Ian Chappell, in his ESPNCricinfo column, wrote that while Dhoni was a brilliant leader in limited-overs cricket, "as a Test captain he's too reactive and has a tendency to let the game meander along, like an absent-minded professor strolling in the park."
These perceived deficiencies do not seem to have hampered India on home soil. Since their 2011 zenith, Dhoni's team have beaten Australia, New Zealand, South Africa and West Indies on home soil. Aside from that defeat against England, their home record remains impressive.
However on the road, where conditions are different and India's vaunted spin attack is less potent, Dhoni has been unable to conjure similar success. In fact their only victories since the start of 2010 have come in Bangladesh and West Indies, neither of them powerhouses in modern cricket.
Since their 2011 success in the Caribbean, India have not won a single match out of the 12 matches played in four overseas Test series, one each against England, Australia, South Africa and New Zealand. Over two-and-a-half years without a win offshore is a long time for any captain to go without a win and there is an absolute necessity to raise a question mark.
Dhoni's absence due to a side strain in the ongoing Asia Cup 2014 championship has forced the spotlight to shift focus on Virat Kohli, who is widely tipped to be the future skipper.
Given rate at which Dhoni and Kohli's captaincy credentials are being discussed, the 'future' may arrive sooner rather than later. However, thrusting the leadership upon the 25-year-old makes no sense and would simply mean that India are pushing the panic button. Kohli already has enough responsibility as the team's star batsman; surely it would be madness to increase the load even further.
The Chennai Super Kings' star has been dearly missed by the national team as they have failed to make it to the finals of the Asia Cup. He is certainly in line to return for the upcoming Twenty20 World Cup scheduled to begin this month.
Once the curtains are drawn on the T20 World Cup, India will travel to England in June. Whether or not Dhoni will lead the side remains anybody's guess. However, he should be given one more chance, perhaps before determining whether or not he should be ousted as captain in the Tests.
Nevertheless, Dhoni still has the goods and a few more years at the top left in him before the need arises for him to be replaced. That said, a man of his stature should rather choose to call it quits on his own terms, rather than being forced to step down.