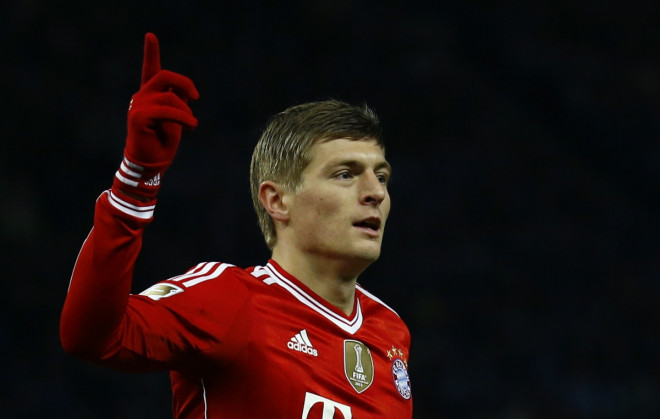 Bayern Munich midfielder Toni Kroos has rubbished suggestions he was unhappy with Pep Guardiola's decision to substitute him against Manchester United.
The Germany international appeared frustrated as he was replaced by Mario Gotze after 74 minutes during his side's 1-1 draw in the Champions League quarter final draw at Old Trafford.
With United hoping to convince Kroos to move to Old Trafford this summer as his contract standoff with Bayern continues, a falling out between the manager and player would certainly work in their favour. However the Bayern midfielder has made it abundantly clear that his withdrawal mid-week was purely for tactical reasons, a decision he accepted with good grace.
"We only discussed a few tactical things. It was the coach's decision to replace me," Kroos was quoted as saying by TZ.
"I don't mind when I'm taken off after 74 minutes. The plan was to bring on Mario Gotze in order to play even more attacking for the final 20 minutes. That is not a problem for me. The coach told me I did well. Everything was just fine. Nobody likes to be substituted."
Despite playing an integral role in Bayern's record-breaking Bundesliga triumph, the club are no closer to addressing his contract impasse with his current deal to expire next summer. Guardiola and Bayern chairman Karl-Heinz Rummenigge have both recently declared that the 24-year-old will not be leaving the club this summer but the player himself has refused to close the door on a move to the Premier League and United.
"Nothing has been decided about my future," Kroos said in March. "It's no secret the Premier League is an option for me. No one has come to any agreement and it will stay like this until the summer.
"I think that anything is possible for me if I leave. I have to think about this for myself, and make the right decision. I've heard that people have written that I might go to England, but there's nothing new from my point of view."
With Bayern's attempt to retain the Champions League and Germany's attempt to dislodge Spain as football's superpower the subject of his focus, Kroos told the German press earlier this year that he will make no decision on his future until after the World Cup.