Tony Ferguson's striking coach Rashad Holloway believes the UFC interim lightweight champion will fare just fine against the likes of Khabib Nurmagomedov and Conor McGregor.
Ferguson (23-3) will take on Khabib (25-0) in the main event of UFC 223 on 7 April in Brooklyn, New York seemingly for the undisputed lightweight title.
It marks the fourth time a match-up between the two dominant lightweights has been booked in what many fans consider a dream fight.
"The Eagle" has dominated every opponent he has faced so far. He most recently defeated Edson Barboza via unanimous decision at UFC 219 in December 2017.
But Ferguson, who is riding an unprecedented 10 fight winning streak in the lightweight division, has been tipped by Holloway to not only end Khabib's unbeaten run but also finish him via knockout.
"Tony's been working the past few months on his body overall before the start of camp so he's coming to camp in shape," Holloway told IB Times UK.
"The thing with Tony is he can win anyway. The last camp [for UFC 216] I felt a submission, but this one [vs Khabib], I see a knockout."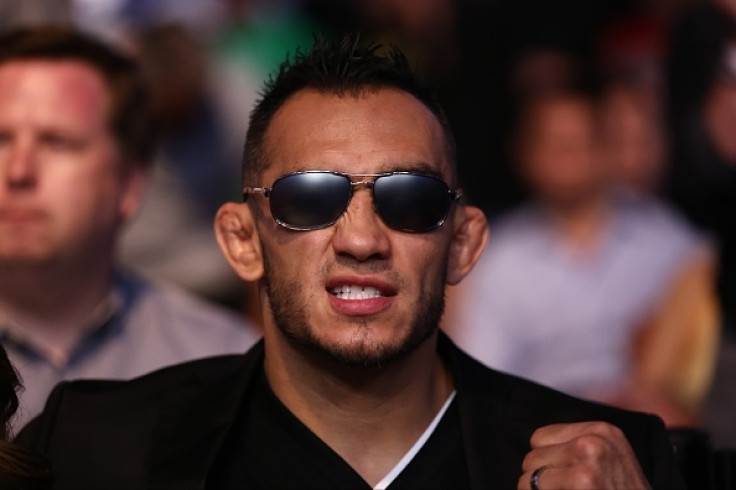 Before the fight with Khabib was booked, "El Cucuy" was initially expected to face McGregor in a title unification fight upon the latter's return from his boxing ventures.
However, it never came to fruition with UFC president Dana White later revealing that the Irishman was planning a September comeback.
Holloway believes in addition to now wanting to fight for a higher purse following his lucrative payday with Floyd Mayweather, McGregor never favoured a fight with Ferguson because of the dangers he possesses.
"McGregor made about $60m (£43m) his last fight," Holloway added. "He doesn't favour fighting anyone for $5m, $6m, or $7m.
"He never favoured fighting Tony because he's too dangerous and now [that] Tony's name finally blew up, he's [McGregor] rich and lazy while Tony's super hungry so no way he was ever fighting Tony."
But if the fight did happen, how would Ferguson fare in a potential match-up against McGregor?
The 34-year-old has been prone to receiving a lot of strikes in his fights with many believing the best way for him to beat McGregor and his power is in the later rounds or if he takes the fight to the ground.
Holloway, though, claims the Crumlin native won't be able to stand and fight with Ferguson, adding that his jab and footwork will keep McGregor's power at bay.
"Tony's jab and his feet will keep McGregor at bay," the former professional boxer explained. "When we choose to, we will close the gap with strong counters from different angles. Tony hits like a truck. It won't last long.
"McGregor has no chance at all in that fight. His ground game sucks but his striking is good. [But] he wouldn't be able to strike with Tony. He [Tony] shows you what he wants and he's so tough as far as taking shots, that I get on him for it.
"You all haven't seen him really strike yet. His ability and what we work on is amazing and I'm not being biased. He has this thing where he doesn't want to show all his cards and I fuss about it but he gets the job done. You will see more of his ability this fight [vs Khabib] for sure."
Ferguson initially started fighting in the welterweight division and has hinted at returning to compete at 170 pounds.
Holloway believes once the lightweight division is conquered, Ferguson will eventually return to his old weight class and could defeat the current welterweight champion, Tyron Woodley.
"I think once he conquers the division, his frame can easily handle welterweight and that's up to him. I think he will," Holloway stated. "Tyron is a good friend of mine. He used to train with me when I was still fighting at Wild Card gym and he was going into Strikeforce.
"His striking coach is my old coach and like a father to me [Eric Brown]. Tony and he even hit it off but it's business and if it happens, I think that's a good, tough fight that Tony wins period. I honestly don't see anyone beating him out there. He has too many weapons and he has something you can't teach — heart, chin and balls."