It has been an interesting year for Italy's third biggest bank and the oldest surviving lender in the world, Banca Monte dei Paschi di Siena.
The bad news started when the bank had to be bailed-out. In February, the Italian government looked like it had finally sealed the deal, which was a very hot political potato, when it said the lender could lap up €4bn (£3.4bn, $5.5bn) of aid needed to boost its capital base if it presented an agreeable plan.
But news got gloomier when the bank revealed that its 2012 losses were far worse than analysts anticipated. In fact, the lender reported a multibillion euro loss over the period. According to the group's 2012 annual results statement, it was hit by a net loss of €3.17bn, compared with consensus analyst estimates that ranged from €2.29bn to €2.5bn.
Following the announcement, the bank said more than 2,500 heads were to roll, through early retirement and re-engineering departments, in order to shore up cash next year. The lender also announced it was to bring in changes to management that would result in saving €130m in 2013 and up to €180m in 2014.
Derivatives Scandal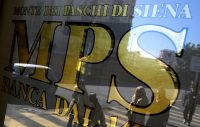 However, despite the proposed cuts, the lender's fortunes did not turn. In April, the bank said prosecutors were set to seize billions of euros worth of Nomura assets as part of an investigation into the lender's use of derivatives to hide losses and possible mis-selling by the Japanese firm.
In a statement read out in Italian court and cited by various news organisations, prosecutors in Siena, Italy said they would seize €1.8bn from Nomura and have already acquired €14.4m of assets from former Monte Paschi chairman Giuseppe Mussari, ex-managing director Antonio Vigni and the former head of the finance department Gian Luca Baldassari.
Prosecutors said that the Nomura seizure related to €88m worth of hidden commissions and €1.7bn euros of funds deposited with the Japanese bank by Monte Paschi by way of collateral for a loan.
It seemed it could not get worse for the embattled bank, but it did. In May, MPS reported a loss for the first quarter of 2013, its then fourth consecutive quarterly loss, on lower income from lending business. In particular, the bank reported a net loss of €100.7m for the first quarter, compared to a profit of €89m in the year-ago period.
In addition, the bank revealed quarterly revenues declined 22% to €1.2bn from a year earlier, primarily due to lower income from lending and the cost of state aid. Net interest income declined to €597m from €883m last year. Loan-loss provisions amounted to €484.2m compared with €430.3m, a year ago.
Beef It Up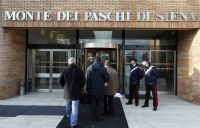 After all the gloomy announcements, the Italian government was expected to approve a radical turnaround plan in order to secure €4.1bn in rescue funds and avoid handing over a stake to the Italian government. The new plan was presented to investors before the markets opened on 25 September. But a month later, in October, the lender was forced to beef up its programme.
On 7 October, MPS made public another radical turnaround plan that entailed 8,000 job cuts and aimed for €440m in cost savings. The bank, at that time, had already laid off 2,700 employees.
Under the new plan, MPS intended to repay its state loans fully by 2017, and expects to report a net profit of €900m by that date. The bank plans to repay €3bn to the government in 2014. MPS said it would carry out a €2.5bn stock sale in 2014 - more than double the amount originally proposed by its managers. The bank said it would also reduce its €23bn Italian government debt portfolio to about €17bn by end 2017.
Lastly, the bank decided to put a ceiling on top executives' pay packages, at €500,000 a year, until the capital increase is completed or the state aid is fully repaid.
Share Drop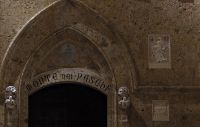 The bad news did not even let up in November. MPS shares fell as a disappointing third-quarter trading statement raised doubts about the troubled bank's ability to execute a stock sale in 2014, and avoid nationalisation.
On 14 November, the lender said that its third-quarter net loss widened to €138.3m, from €25.9m a year ago. Loan-loss provisions grew to €511m in the July-September quarter, against €461m a year ago.The bank reported a net loss of €518m in the nine months to 30 September. The Siena-based lender said its net exposure to bad debts hovered at €20bn at the end of September.
Chief Executive Fabrizio Viola told analysts on a 14 November conference call that the bank had three potential windows to initiate the share sale - January 2014, June or the end of that year. "It's clear that the more time goes by, the more difficult it gets," Viola added.