One person has been killed and another 10 injured after a tornado swept across northern Poland at speeds of over 200km/h.
The freak tornado devastated everything in its path. Four hundred hectares of the Tuchola Forest area were flattened along with 100 houses. Power lines and transport networks were severely disrupted.
An unnamed 60-year-old man was crushed to death by a collapsing building in the village of Wycinki.
Mieczyslaw Torlop, a firefighter at the scene, said of the victim: "He was installing a water pipe [and] he came out to this point next to the house when a tornado appeared and he was crushed by the house."
Wycinki, in the Baltic region of Pomerania, was the area hardest hit by the tornado, along with two neighbouring provinces.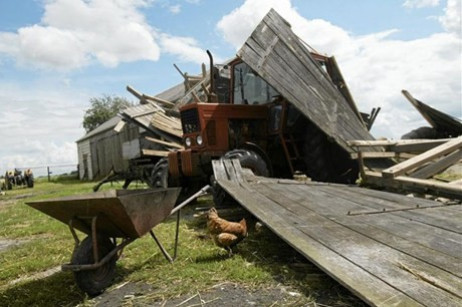 Meteorological authorities categorised the tornado as class two on the Fujita scale, which equates to a rating of "strong".
A resident of the town of Stara Rzeka in Lower Silesia said: "I was standing in front of the house and suddenly I heard a roar racing towards me. I looked up and there was a huge amount of rubbish and branches, and then a monstrous explosion that lasted four or five minutes. Then everything fell silent.
"I stood and looked around my back garden. Everything - trees, fences - all flattened. In the neighbours' place there was nothing but total destruction."
Reports claim that 450 firefighters were involved in rescue efforts.
The tornado came after hailstorms, heavy rains and floods wreaked havoc across Poland. Weather forecasters have predicted that similar storms will continue to rage across the country for weeks.