Toshiba has not exactly got a perfect track record when it comes to Android tablets. Its first effort, the Toshiba Thrive was widely criticised for poor battery life and uninspiring and cheap design and build quality.
However the company seems to be have learned from its mistakes and has now launched a trio of Excite-branded tablets which a much sleeker and contemporary look and feel. The Excite tablets, which have so far only been announced in the US, will come in three sizes: 7.7in, 10.1in and 13.3in.
Yes, you've read that correctly, Toshiba believes there is a need in this world for a huge 13.3in Android tablet. The reasoning behind such a big tablet? Toshiba did some research which showed that most people never took their tablets outside the house and so didn't need to make it so portable.
Despite their different form factors, the three tablets share very similar specs. All three will run an unskinned version of Android 4.0 (Ice Cream Sandwich), will feature a Gorilla Glass front and will be powered by the quad-core processing power of the Tegra 3 System-on-Chip (SoC).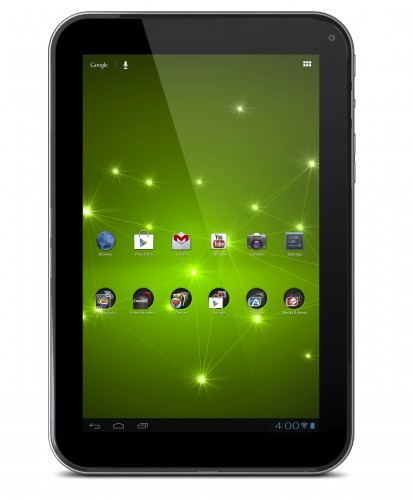 All have five megapixel cameras on the rear and two megapixel cameras up front, along with stereo speakers, Wi-Fi, and Bluetooth.
The Excite 13 will come with a backlit LED display with a resolution of 1,600 x 900, up from the typical 1,280 x 800 we see with most 10.1in tablets. Indeed that's just the resolution we see on the Excite 10 while the Excite 7.7 will feature an AMOLED display similar to that seen on the Samsung Galaxy Tab 7.7.
Toshiba is promising over 10 hours battery life on all the new tablets while the Excite 10 and Excite 13 claim to give you 13 hours. While the full sized USB and HDMI ports seen on the chunky Thrive might have disappeared, the Excite 10 and Excite 13 still retain the full-sized SD card slot, which is a rarity for Android tablets.
The Excite 10 will be on sale 6 May, beginning at $449.99 for 16GB of internal storage. The Excite 13 and Excite 7.7 will be out 10 June, starting at $649.99 and $499.99, respectively. We've been in touch with Toshiba's UK spokespeople to confirm or otherwise if the new Excite range will be coming to the UK but at the time of publishing had not received a reply.