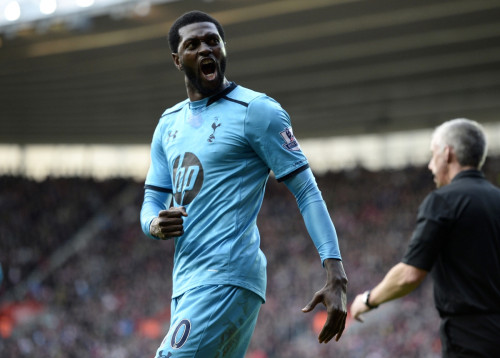 Tottenham left-back Danny Rose has revealed that Emmanuel Adebayor's return to the first team fold has given the side as much of a boost as if he had been a new signing.
Spurs looked in considerable trouble as the year came to an end with the side suffering from heavy losses at the hands of Liverpool and Manchester City. The sacking of Andre Villas-Boas came as a shock to many, but former assistant Tim Sherwood has been able to steer the side back into contention for a top four place.
One of the new manager's changes has been to use Adebayor, who was left on the sidelines for the start of the season by Villas-Boas who appeared intent on selling the Togo international.
And Rose believes that while Tottenham's now-former manager had his reasons for not playing Adebayor, having him back in the line-up has eased the pressure on incoming striker Roberto Soldado and made for a better balance in the squad.
"Obviously no disrespect to Andre but playing one up front has been a bit frustrating and hard for Soldado at times," Rose told the Evening Standard. "It is just nice that he has got a bit of help up there with Adebayor. He didn't play a game since pre-season until a few weeks ago but his energy levels have been brilliant.
"He has been like a new signing. He has scored three or four goals in his last four games and it is brilliant for us.
"Everyone is buzzing that we have won. We want a good run in the FA Cup as well but everybody is confident, the manager is confident and all the players are confident. We are looking forward to every game now."
Tottenham are currently in sixth place in the table and are just two points off fourth-placed Liverpool. And with Adebayor scoring four times in his last five appearances for the club it would appear he may be the spark the club need to get into the mix for Champions League football.