Tottenham fans be prepared. The inevitable day is approaching when one of the European powerhouses starts discussing the talent of Gareth Bale. They may not directly announce their interest, and they maintain that they will not bid, but behind closed doors they will be debating what size bid would persuade Daniel Levy to part with the Welsh wizard.
And it is Levy they must convince. He is the man behind every decision at Tottenham and he normally gets exactly what he wants. He forced Real Madrid to sweat over a possible deal for Luka Modric for more than 12 months and plainly refused to sell the midfielder to London rivals Chelsea.
Levy will be all too aware of clubs circling around Bale but he will hope that Tottenham, under the guidance of Andre Villas-Boas, will be able to match his personal ambitions.
Bale's performances this season have produced superlatives from managers, pundits and fans alike. He has 17 goals in all competitions and six in his last four appearances. In fact we have to go back to January 27, five games ago, for the last time a player other than Bale scored for Spurs. His Wales influence is even more substantial as he has been involved in every goal since November 2011.
But it's not just his clinical nature of front of goal that has people raving; he appears to be improving in almost every department. Bale has clearly worked tirelessly behind the scenes to perfect his free-kick technique. Hit with the laces with a mixture of precision and power, the strike makes the ball defy physiques and is a nightmare for any opposing goalkeeper - just ask Lyon's Remy Vercoutre.
The 23-year-old has also excelled in a variety of various positions; learning how to use his pace whether playing more centrally, or even as the furthest forward player. Too many times in previous campaigns he struggled to affect games when playing anywhere other than on the left wing, this has now changed.
His managers at Tottenham and Wales have both lauded his performances this season and soon they will run out of new ways to describe his precocious talent.
"He is incredible. Not only his all-round game but his ability to strike free-kicks. The ball has so much power and it changes direction easily," raved Villas-Boas after Bale scored twice against Lyon.
"Gareth is going through a great period at the moment, you have to recognise that. He is scoring lots of great goals for the team. This is his best scoring season for Tottenham. You can see the player is enjoying his football and getting a buzz out of it."
Chris Coleman was equally complimentary after Bale starred in the 2-1 win over Austria earlier this month. "The cross for the second goal was great, he is such a threat and we know when we have him in the team we can afford to go without the ball for periods because he is such a danger when we get it to him.
"He changes the feel of a game and he is a big plus for us when he is playing on that form. He did two things tonight that not many players can do."
Bale's brilliance this season has also helped Tottenham remain in the running for a place in the Champions League next season. They remain just one point behind third-placed Chelsea and are four clear of bitter rivals Arsenal.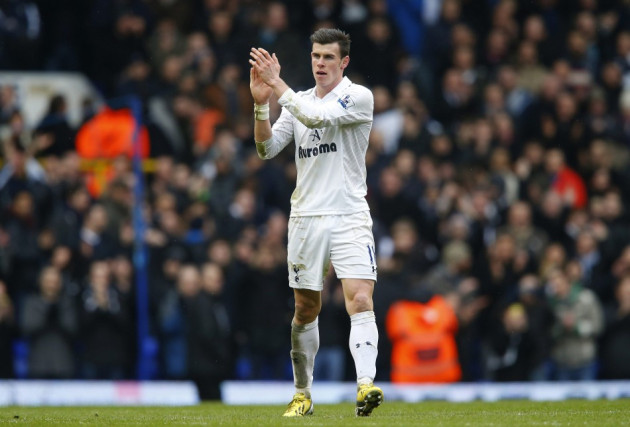 It has become increasingly vital that Spurs qualify for the elite European competition if they want to keep hold of their best players. Modric used it as a reason to leave the club, while it would be a crying shame if Bale was denied the chance to appear on the biggest stage of them all.
His performances against Inter Milan in the Champions League in the 2010/11campaign were one of the ways European clubs were made aware of his supreme talent.
The worry is that Bale will one day feel that he wants to regularly compete for league titles and European glory. His fellow Welshmen Ryan Giggs was denied the chance to play in World Cups and European Championships but more than made up for it with a trophy cabinet so full that even Roger Federer would be envious.
While Spurs are steadily improving, they will find it difficult to compete with the likes of the Manchester United, Chelsea and Manchester City. Financially they simply cannot match the spending power of these clubs.
So how long will it be before the likes of Barcelona, Real Madrid, Juventus and Bayern Munich decide to come calling? All regularly compete for major honours, season after season. They also have the financial muscle and draw that makes them difficult to turn down.
Bale even admitted that the chance to move to one of Spain's top two would be virtually impossible to neglect.
"If you are talking about Barcelona or Real Madrid, two of the biggest clubs in the world, then it's a bit like Harry and England, it's a once-in-a-lifetime dream. If you said to any young player that you could play for Barcelona or Real would they turn it down? Probably not," Bale told the English press last season.
"If it happens you would have to look very seriously at the situation. If a bid was accepted you would obviously have to seriously consider it. But that has not happened so, at the moment, I'm just concentrating on Tottenham."
Such is the importance of Bale to Villas-Boas that the Portuguese boss even claimed that losing him would be like Barcelona losing Messi or Madrid losing Ronaldo.
"Most teams have to hang on to their best players, Barcelona losing Messi would be a disaster, Real Madrid losing Ronaldo would be a disaster so this is exactly the same" stated AVB when asked about Bale.
So while Tottenham fans marvel at the recent performances of Bale, they must do so while fearing that this outrageous talent will be one day ripped from their grasp. For now though, simply sit back and enjoy an athlete fast approaching the peak of his powers as he may not call White Hart Lane home for much longer.