Tottenham have been handed a deadline in their efforts to sign Spain international striker Roberto Soldado. The La Liga club's president is quoted by the Mirror as warning Spurs to meet their conditions of sale or risk losing the 28-year-old, at least for now.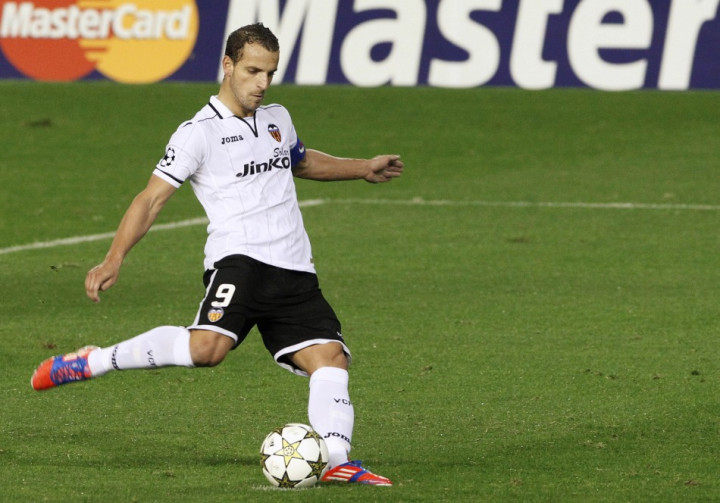 Soldado, a former Real Madrid forward, is believed to be high up on Andre Villas-Boas' wish-list for this transfer window, after losing David Villa to Atlético Madrid and seeing Belgian international Christian Benteke sign a long-term contract at Aston Villa.
"If any club wants our striker they are obliged to accept our conditions. And the price on the market has a clause [€30m]. Until August 3, we accept that a deal may happen and we can negotiate. But after that date, he will not leave us," the Mestalla club's president Amadeo Salvao, declared.
Liverpool have also been linked with a bid for Soldado, as Brendan Rodgers attempts to prepare for the possibility of life without Luis Suarez.
The Uruguayan international has pushed loudly and belligerently for a summer transfer (with both Real Madrid and Arsenal understood to be interested) but Anfield chiefs have held firm so far. The former Ajax star has joined the Reds' first team in Australia, after being given extended leave due to his involvement in the Confederations Cup.
Spanish newspaper AS believes both Premier League clubs are ready and willing to meet the release clause, although whether they can do so before Valencia's new deadline remains to be seen. Rodgers has already signed one Spain forward in Iago Aspas and with Daniel Sturridge and Fabio Borini at Anfield, in addition to Suarez, a move for Soldado (without the Uruguayan international's future being confirmed) could complicate matters.
Spurs are possibly more likely to move swiftly. AVB has already lost two key striker targets in Villa and Benteke and may not want to delay this signing. The White Hart Lane club have Emmanuel Adebayor and Jermain Defoe up front for now but both had unimpressive seasons in the last campaign.
The Metro believes Turkish side Besiktas are negotiating a move for the Togo international and that Defoe has been transfer-listed by AVB.
Meanwhile, Rodgers has also provided updates on Spain goalkeeper Pepe Reina's proposed move to Serie A side Napoli.