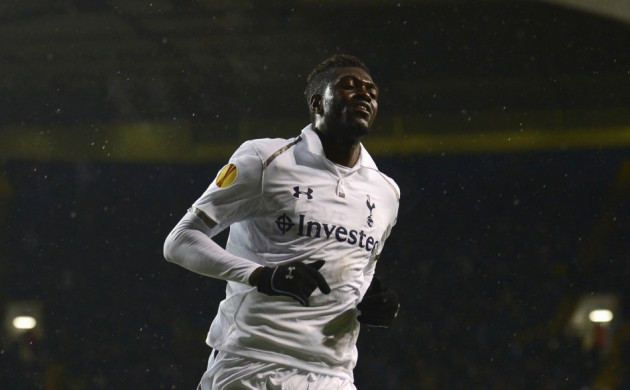 Tottenham boss Andre Villas-Boas is prepared to make some major changes to his strike force with Emmanuel Adebayor set to join Harry Kane in leaving the club in January.
The Spurs boss had suggested that Kane may be sent out on loan in order for him to gain regular first team football, while Adebayor could also leave the club on a short term basis come the new year.
"At the moment what I've been speaking to Harry about is that we are studying the possibility of him going out on loan as well - but we are happy for him to try to compete for his place, and so is he," Villas-Boas told the Tottenham & Wood Green Journal.
"We have lots of options up front and he understands that, but he is happy to continue to push for his place. He has been given that opportunity because he has been excellent in training, so we believe a lot in his future.
"We can't have a loan situation that does not work for him, like the ones that we have had before. That's why we have been very cautious with his next step, and we have not been in a rush in that situation. Why haven't the loans worked before? Because he didn't play."
And while it seems Tottenham are keen for Kane to show his potential and then return to the club a more confident finisher, Adebayor is more likely to use a loan move as a potential shop window.
The Togo international has fallen out of favour with Villas-Boas and is yet to feature for Tottenham this season. He has only just returned to training with the first team after being forced to work with the youth team earlier this summer.
Now reports in Italian publication mercato365 suggest that Turkish outfit Trabzonspor are currently in negotiations with Adebayor as they attempt to make him the latest former Premier League player to move to the club.
Having already recruited former Chelsea duo Florent Malouda and Jose Boswinga, as well as former Spurs midfielder Didier Zokora, they are now hoping to land Adebayor on loan.
Adebayor is still under contract at White Hart Lane until the summer of 2015 but it is believed that Tottenham would be prepared to loan him out and would even contribute the majority of his wages.
Should both Kane and Adebayor leave in January then Villas-Boas may well decide that he needs to strengthen his forward line as it would leave just Roberto Soldado and Jermain Defoe as his only options.
Having scored only eight league goals in eight games so far this season, Tottenham may well have been planning to sign a new striker in Janaury and Aston Villa's Christian Benteke is a known target for the north London club.