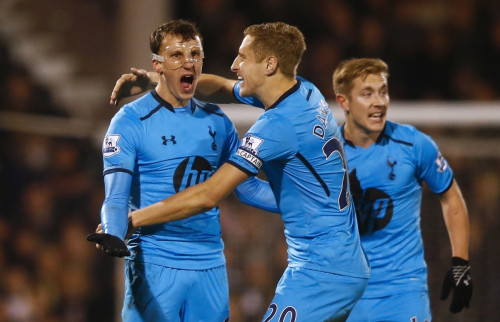 Tim Sherwood has revealed that he won't be making any moves in the transfer window unless a player who can fit straight into the Tottenham starting line-up becomes available.
Spurs are currently coming to grips with the departure of former manager Andre Villas-Boas but with Sherwood enjoying an impressive start as head coach the club have managed the transition with less difficulty than many envisaged.
He immediately placed Emmanuel Adebayor back in front of goal which has proven to be a masterstroke and as Tottenham make their way back into contention for the top four he says they aren't planning on spending big this month.
"I don't think we need players here. We need to get them fit, the ones we have got, and then if anyone springs up who could really make us better, our 11, then possibly we will go in," he told reporters, via Metro.
"I think the club have always backed their managers and I don't think they will be different with me, but I really think we are fine once we get everyone fit.
"We are just looking in that treatment room and seeing if it can empty a little bit and when it does we can assess what we need and what we might need."
Reports have been circulating that Sherwood might be in pursuit of Manchester City defender Joleon Lescott, who appears to have fallen out of favour at the Etihad as of late.
But the manager insists that he won't speak publicly about the rumours, leaving the door open to the possibility that Tottenham might make a play for the 31 year old.
Sherwood said: "He [Lescott] is a good player and there are lot of good players at different clubs, but he is with Man City at the moment so we can't comment on that."