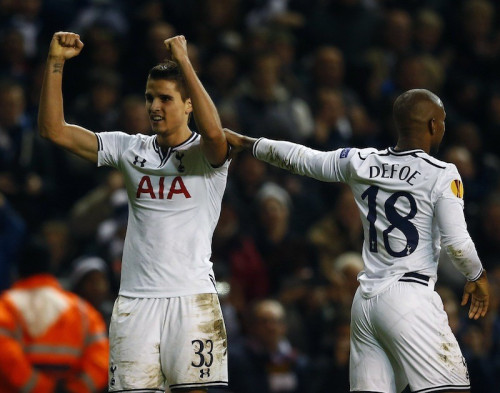 Tottenham Hotspur manager Tim Sherwood has put recent rumours surrounding Erik Lamela's future to bed by confirming the 21-year-old will not leave White Hart Lane.
The Argentina international was signed for a club record transfer fee of £30m from AS Roma last summer. However, Lamela has failed to impress on the field for the north London side. He has managed only one assist and is yet to score in the league in nine games.
The former Roma star has been linked with a move back to Italy as Juventus and Inter Milan are reportedly interested in his services. In addition to this, Lamela's father confirmed the South American is looking to return to Serie A.
However, the Spurs manager remains confident that Lamela will prove his worth for the White Hart Lane club and believes that players need time to settle in England. Sherwood also stressed the Argentinean will not leave the north London side on loan in January.
"Absolutely [Lamela had a long-term future at White hart Lane], he won't be leaving on loan in this transfer window. We know what a talented player Erik is and we also understand how players need time to settle," Sherwood told Sky Sports.
"He's needing that time to acclimatise to a new country. He doesn't speak English and with the tempo of the games, especially over the Christmas period when they come thick and fast, he hasn't been 100% fit.
"He's still feeling fatigued in one of his thighs so we are being very cautious with him. We don't want that to turn into a real injury problem so we're going to take it nice and steady with him.
"I really want to put him on the stage when he's ready to perform rather than let people judge him when he's really half-cooked," the Spurs manager said.
The north London side have had mixed results in recent times, which saw the club chairman Daniel Levy show the exit door to their former manager Andre Villas-Boas. Spurs are sixth in the table with 37 points from 20 games, trailing fourth-placed Liverpool by two points.