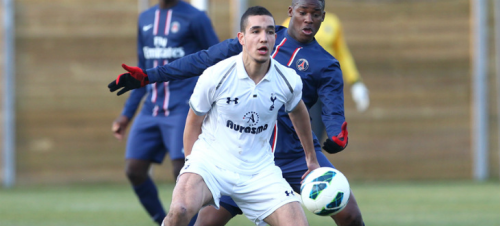 Nabil Bentaleb has revealed his move to Tottenham Hotspur rescued his career after nearly giving up on his dream of a career in football.
One of Tim Sherwood's first moves upon being appointed head coach at White Hart Lane was introducing the 19-year-old to the first team on a consistent basis before handing him his first start for the club in their FA Cup loss to Arsenal.
But despite seemingly emerging from nowhere this season, Bentaleb's route to where he is now has been fraught with personal disappointments.
After being released by his hometown club Lille, the midfielder wasn't able to make the grade at Belgian side Mouscron before failing to impress on trial with Birmingham City.
Now commanding a first team role alongside the likes of Mousa Dembele, Sandro and Paulinho, Bentaleb has Tottenham to thank for rescuing his career.
"It has been a difficult path for me to get where I am today," Bentaleb told The Sun.
"I was released a few times and many clubs didn't want to open their doors for me. Lille let me go when I was 14, just at the time you start seriously dreaming of becoming a professional footballer.
"That was a very tough time for me and I had two choices: I could either give up and not fight for what I wanted or try to show them they were wrong.
"The trial at Tottenham was very important for me. I didn't want to put pressure on myself by thinking it was my last chance. I just wanted to impress the coaches. Fortunately, I was able to do that and it was enough to secure a move here."
Having worked with the teenager in Tottenham's development side before being handed the head coaching role, Sherwood has been confident of what Bentaleb is capable of for some time.
The former Spurs midfielder handed the Frenchman his debut in his side's 3-2 win at Southampton in December and handed him further chances against West Bromwich Albion, Manchester United and Crystal Palace.
Although his first start was marred by a loss to arch rivals Arsenal, Tottenham's march towards a top four finish is back on and Bentaleb insists that is where his and the club's focus lies.
"The result (against Arsenal) was obviously a setback," he added, "but we have come back with a league win against Crystal Palace and the target is still to challenge for a Champions League spot.
"I went back home recently and my mum reminded me of where I was two years ago and pointed out that now I am training with the likes of [Emanuel] Adebayor, [Roberto] Soldado, Demeble, [Aaron] Lennon and all the guys.
"But I know I still have to work hard all the time. That is the only way to succeed."