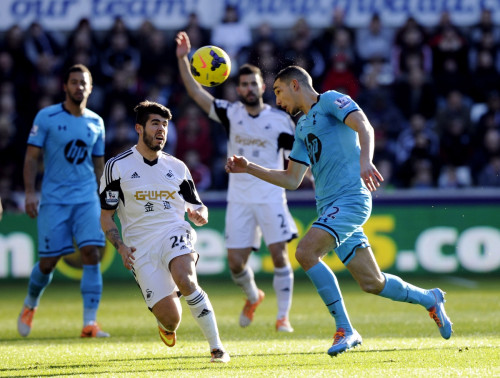 Tottenham Hotspur coach Les Ferdinand believes the club must start to refocus their efforts on the young, homegrown talent at their disposal rather than spending big in the transfer market.
Last summer saw radical investment take place at White Hart Lane as the club spent over £100m adding seven new players to the first team squad, but the shakeup resulted in three of the club's youth products in Steven Caulker, Tom Huddlestone and Jake Livermore forced to seek moves elsewhere given the increased competition in the squad.
In their place this season are Andros Townsend and Danny Rose following successful loan spells at Queens Park Rangers and Sunderland respectively and the pair have since been joined by Nabil Bentaleb, who has been handed four starting appearances in the heart of midfield following Tim Sherwood's appointment.
Ferdinand, who joined Sherwood in stepping up from the club's development side to the first team believes this is a pattern Spurs must continue to follow to ensure the club's young talents do not become disillusioned.
"I think it's extremely important for our young players to see that," Ferdinand told London 24. "For you to believe you have a chance at a football club you've got to see your peers or the people that have gone before you getting an opportunity.
"In the past we went out and spent a lot of money in the summer, so if you're in that development squad you're thinking you've got no chance of playing, and that can't be right for the club.
"Players have to believe that they've got a chance of playing in your first team, otherwise what's the point of them being here?
"What we have (as a management team) is a knowledge of what's in that development squad at the moment, and we'll continue to have that.
"If you've got the knowledge of what's going on in that development squad then you can identify whether players will be good enough for your first team.
"We understand that these boys can't come from the development squad and become first team regulars straight off – sometimes they need to be dipped in and out. It's about finding the right games for that, but what they need is an opportunity."