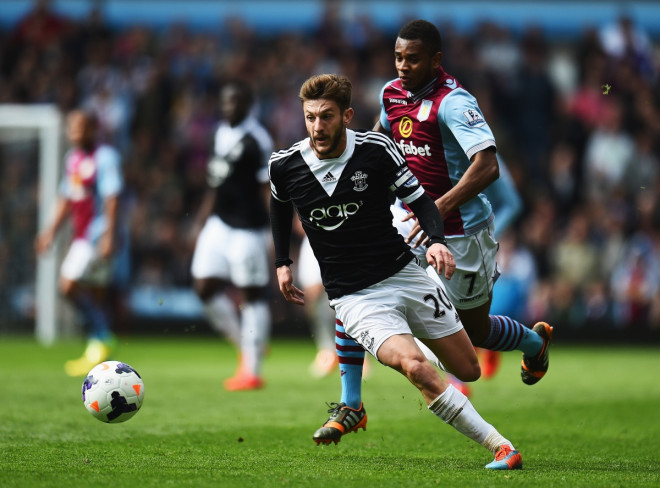 Tottenham are set to challenge Liverpool for the signature of Southampton midfielder Adam Lallana, according to the Guardian.
Spurs have announced the signing of former Saints manager Mauricio Pochettino on a five-year contract and Daniel Levy believes that his influence will be enough to attract the best talent from Southampton to White Hart Lane.
Liverpool have reportedly made a £20m bid for Lallana but the Saints value the player at an amount close to £30m, something which Tottenham may be willing to pay after disposing of their deadwood.
The north London club spent more than £100m last season after selling Gareth Bale to Real Madrid but the new signings failed to have a noticeable impact as Spurs finished the season with 69 points and in sixth point, a position and three points behind their finish in the previous season.
Levy is hoping that Pochettino's arrival will change the fortunes of the club, which has changed four managers over the past three years.
Lallana will be a good addition to their side, with the England international scoring nine goals and assisting six in the recently concluded season.
His performance earned him a place in the PFA Team of the Year and into the national side for which he will be making his way to Brazil to participate in the 2014 World Cup.
Pochettino is hoping to translate his success with Southampton to Champions League qualification for Tottenham and has revealed his satisfaction at having been given an opportunity with a club with significantly better resources.
"This is a club with tremendous history and prestige and I am honoured to have been given this opportunity to be its head coach," Pochettino said.
"There is an abundance of top-class talent at the club and I am looking forward to starting work with the squad. Tottenham Hotspur has a huge following across the world and I have great admiration for the passion the fans show for this team. We are determined to give the supporters the kind of attacking football and success that we are all looking to achieve," he added.