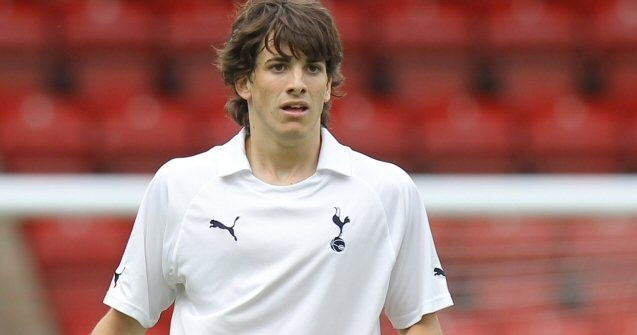 When 14-year-old Cristian Ceballos was spotted performing tricks alongside Ronaldinho at Barcelona there was a belief that he would go on to graduate from La Masia and become a regular member of the first team.
Fast forward five years and Ceballos is no longer with the Spanish giants, today he is part of the Tottenham youth structure hoping to catch the eye of manager Andre Villas-Boas.
The 19-year-old moved to Tottenham in the summer of 2011 having previously trained with Chelsea after Barcelona made the decision not to extend his contract as he had not progressed as well as they wanted.
Barcelona's loss may well end up being Tottenham's gain as Ceballos is now beginning to show the potential which had him initially earmarked as a potential star who would follow in the footsteps of Xavi, Andes Iniesta and Lionel Messi.
Having spent several years with Barcelona, Ceballos is now trying to break into the Tottenham first team and his chances will have been boosted after he scored a superb hat-trick in the Under-21 Premier League.
The winger, who can also operate as a forward, scored three in the 4-2 win over Southampton which also saw highly-rated striker Jon Obika get his name on the scoresheet.
Ceballos' first was a well-placed finish from the edge of the area; his second a clean strike from all of 18 yards, while his final strike proved that he has a poachers eye as he tapped in from close range after a pass from Yago Falque.
Tottenham have always believed that they could have a future star on their hands, with Spurs' technical co-ordinator Tim Sherwood singing his praises when he first arrived.
"Cristian trained hard and showed some real quality when he originally spent time here towards the end of last season and was even involved in some of the first-team training.
"There was other interest in him too. He needs to be patient and if he can fulfil his potential we believe he can play at the top level."
Ceballos will be hoping that he can continue to impress in the youth set-up and prove to Barcelona that they were wrong to let him go.
Watch the video in which Ceballos first came to attention as he juggles the ball with Brazilian legend Ronaldinho: