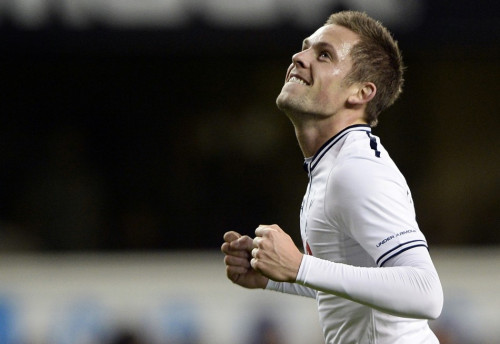 Tottenham Hotspur attacking midfielder Gylfi Sigurdsson has warned Arsenal and Chelsea they should forget about challenging Manchester City for the Premier League title.
A win for Manuel Pellegrini's side over Chelsea on Monday evening will lift City back to the summit of the league at the expense of Arsenal, who moved top with a 2-0 win over Crystal Palace on Sunday.
Only five points separate the three sides but given City's relentless form that has seen them win 19 and lose just one of their last 21 Premier League games – including 11 straight wins from their last 11 games – the club are widely considered favourite to win their second Premier League title.
And Sigurdsson, who featured in 6-0 and 5-1 losses to City over the last three months, is convinced there will be no stopping Pellegrini's men.
"If I were to guess, I think City would be favourites for it," Sigurdsson was quoted as saying in the Evening Standard. "The other two clubs have fantastic squads and fantastic teams but I think with the experience and the players they've got, City will be the side who edge it out of those three."
Although attempts to secure Champions League football for next season will remain a priority, Tottenham's exit from both the Capital One Cup and the FA Cup could provide fresh impetus for a serious assault on the Europa League.
Fixtures at home to Everton and away to Newcastle before their last 32 clash with Dnipro will test the club's resolve, with games against Chelsea and Arsenal following soon after. But Sigurdsson is confident the club will be able to strike a balance to ensure they better their quarter final finish last season.
"We have the squad to cope," Sigurdsson said. "It was a big disappointment to go out to Basel last year and, hopefully, we can go a bit further this season. The squad are even stronger now than this time last year and the new players are starting to settle in.
"The return of injured players [Vertonghen, Sandro, Paulinho, Yones Kaboul and Andros Townsend] will make the squad even stronger.
"Even though the City game was a setback, we'd done well in the games before that.
"By the end of February, we'll have a better idea of who will be at the top and who will be competing for fourth place.
"We need to make sure we go on another run and hopefully that will ensure we're in the top four at the end of the season."