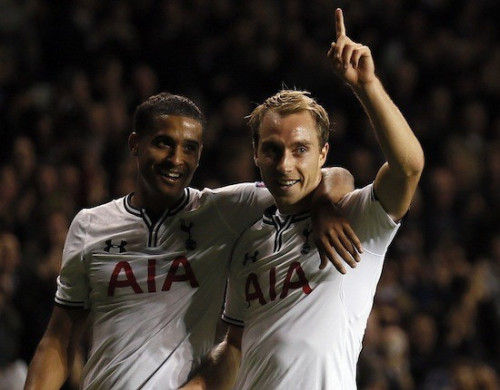 Christian Eriksen hopes to secure a victory in the important game against Everton to turn around a two-game losing run but the Danish playmaker is alert to the Toffees' potential.
After an humiliating defeat against Manchester City and a draw with Hull, Spurs have seen Roberto Martinez's side overtake them in the table – leaving Tottenham in sixth position, one point behind Everton and three points off a Champions League place that currently occupied by Liverpool.
Eriksen is desperate to get back to winning ways but believes it is going to be a real challenge.
"All the teams in the Premier League are hard to break down of course, but Everton are on a run and they've got a lot of confidence. But we know what we are capable of and hopefully it's going to be a good game," he said in an interview with Tottenham's official website.
"It is a really important game. Last time (we played Everton) we started really well and I think in the first half we should have been in front.
"Then they got into the game but we still had our chances, especially in the first-half when we played really good. So I think there are possibilities this time to make our chances count."
The 21-year-old player is starting to make the impact expected when Tottenham signed him last summer and since Tim Sherwood replaced Andre Villas-Boas he has scored three goals and grabbed the same number of assists in just eight Premier League games.
"I love playing. I'm really enjoying playing right now – it doesn't matter where.
"If I get a chance I try to take it and it doesn't depend on where I play, it just depends on where the spaces are and where I can get the ball."