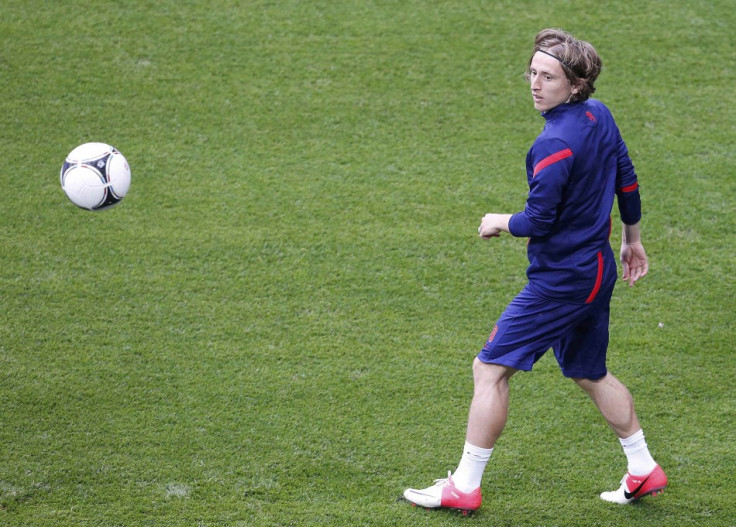 Croatian midfielder Niko Kranjcar has blasted Tottenham Hotspur chairman Daniel Levy for his treatment of compatriot Luka Modric. Kranjcar, a former Spurs player, who now plays for Dynamo Kiev, branded Levy a "liar" and claimed the chairman earlier promised Modric he would be free to leave White Hart Lane this summer.
"I know that the chairman talked to him face to face last autumn. He promised Luka he would let him go, and now he's condemning him. Levy did everything to protect the interest of the club and make a profit. He has also used lies to deceive the public, which is allowed in business, but if you were in Luka's shoes, you would probably do the same as him," Goal.com quoted Kranjcar as saying.
The 27 year old midfielder added he understood Modric's behaviour towards the Spurs camp over the past couple of weeks.
"To have an offer from Real Madrid is a once-in-a-career opportunity. I'd do anything to get to Santiago Bernabeu, playing for Real Madrid is the greatest privilege in any footballer's career, even if I prefer Barcelona. That's why I understand Luka," he added.
Kranjcar also blasted Levy for what he claimed was poor handling of other transfer situations, including his own. He stated Levy only thought of making profits and neglected to understand the feelings of his players. He added he was happier at his new club and believed they boasted a better fan base and tradition than Tottenham.
"I know from my own experience how difficult these people are and how hard it is to break out of a contract with them. Remember Berbatov? And it was the same with me: they held me back for two years, until finally my new club paid what they were asking, and not a pound less. That is their specialty: they set unreasonably high transfer demands, but the absurd thing is they always get what they ask for," he added.
Spurs in Trouble over Bale
Meanwhile, the club has responded to criticism regarding the selection of winger Gareth Bale. The 23 year old Welshman was originally ruled out of Team GB's squad for the men's football tournament but seemed to have no injury concerns when he started and scored for Spurs against the Los Angeles Galaxy in a pre-season game. The club was criticised for deliberately withholding Bale's services for his national side and were forced to explain their decision.
"The Club considers the recent comment and accusations regarding Gareth Bale's fitness relating to his non selection for Team GB's men's football team to be wholly unacceptable and unjustified," read a statement in the club's official web site.
"For the avoidance of any doubt and on a point of absolute clarity and transparency - Gareth sustained an injury as he built up his fitness ahead of joining up with Stuart Pearce's side. MRI scan reports were sent to the FA medical team on 29 June (2012). He was subsequently not selected on the basis of this injury and the inability to predict recovery time," continued the statement.