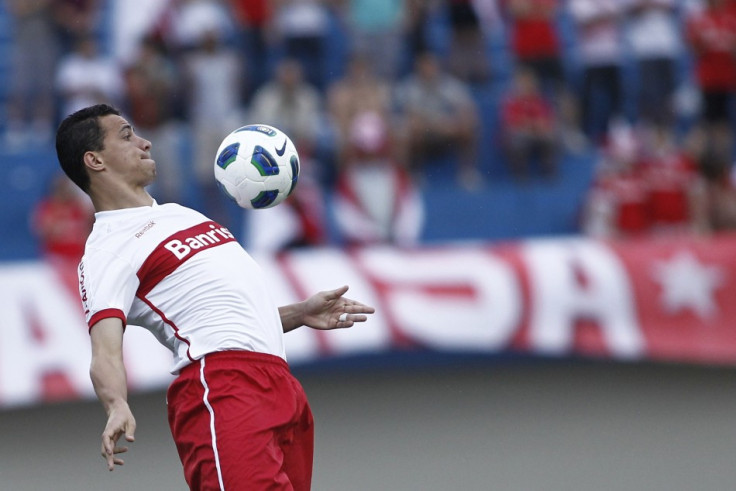 Tottenham Hotspur are planning a move for Internacional striker Leandro Damiao this summer, according to the Daily Mirror.
Spurs have reportedly had two bids rejected for Damiao last summer but they remain interested in the striker, especially with speculation regarding Jermain Defoe's future at the club. The 22 year old Brazilian has scored 18 goals from 25 matches in all competitions for his club this season and is now also part of the national team. The report says Spurs boss Harry Redknapp has sent top scout Ian Broomfield to Brazil to run the rule over the player, with a view to tabling a bid soon.
Meanwhile, Manchester City forward Emmanuel Adebayor's loan spell at White Hart Lane is now over and though the Togolese hitman is expected to leave White Hart Lane and return to City, he is hopeful of making a permanent switch to London. However, Redknapp knows this could be problematic because the club cannot afford his high wages. Redknapp was also interested in Marseille's Loic Remy but the French club are likely to demand a hefty fee for the forward and hence the Tottenham manager has now zeroed in on Damiao.
Damiao, who is believed to be available for £15mn, had confirmed Tottenham's interest in him and the London club will now hope they can finally land the striker, who is also a target for Juventus and cash-rich Paris Saint-Germain.
Meanwhile, Spurs winger Gareth Bale remains a Barcelona target, according to the Telegraph.
Based on information from Barcelona-based newspaper El Mundo, it is suggested the £36mn price tag Spurs have slapped on Bale has scared the Catalans off. However, given the 22 year old Welsh international's desire to go to Spain, Spurs are worried he may demand a transfer and make things difficult, particularly since the White Hart Lane club will not feature in the Champions League next season.
The general belief is that should Bale press for a transfer, like Javier Mascherano and Cesc Fabregas so famously did before they were allowed to go to Camp Nou, Spurs would not only be forced to play ball but could also mean a cut in the transfer fee.
The interest from Barcelona, coupled with Spurs' failure to qualify for next season's Champions League, is likely to persuade Bale to ask for a summer move away from White Hart Lane.