Croatian midfielder Luka Modric has been asked to train by himself, in light of continuing rumours and reports linking the Spurs man to Spanish champions Real Madrid. An earlier IBTimes UK report stated that Madrid were ready to offer Tottenham a maximum of £30m for the player's signature but that figure was still short of the £38m - £40m asking price that Spurs' chairman, Daniel Levy, placed on his star's head.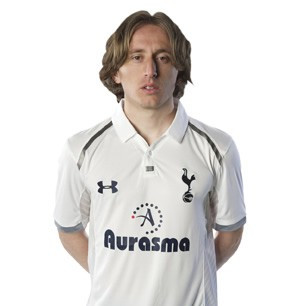 Spurs boss Andre Villas-Boas was quoted as stating the decision to ask Modric to train on his own was taken to ensure the Croatian international had time to adjust to the possibility he may remain at White Hart Lane, despite fighting for a transfer, for the second successive year.
"He is training alone because we decided to do that until his mental state is ready to return to the team," AVB was quoted as saying, "It is important that in the coming days he understands he must return to the first team. We respect the player's ambition, but he must also respect the club."
"Until we receive a suitable offer for the player, he will not go," Villas-Boas said, adding, "I do not know if it will happen, but my job is to get his head right to play for us. It is important that in the coming days he realizes he must prepare to play for our team. The contacts we have had with other clubs have not met with what Tottenham wants for the player. We respect the size of Madrid and the other interested clubs, but they must respect what we are doing too."
The tactic of asking transfer targetted players to train apart from the first team is one AVB used during his short stint at Chelsea as well - centre back Alex and striker Nicolas Anelka were the two players isolated on that occasion.
Meanwhile, despite difficulty in agreeing a transfer fee with Spurs, the fact remains that Madrid have not officially pulled out of the race to sign Modric and their hopes will be boosted by reports that French club Paris St Germain (PSG) have dropped interest in the playmaker. PSG recently confirmed the signing of 19 year old Brazilian midfielder Lucas Moura for an estimated £35m and the Daily Mail reports Carlo Ancelotti's side are unlikely to pursue Modric now.
Modric was targetted by Chelsea in a similarly drawn-out saga last summer. The bottom-line for the player may well be that he will have to resign himself to another year at White Hart Lane and Europa League football as Tottenham play hardball with their most coveted player. The Croatian's contract expires in 2016 and is therefore in no position to force a move out of north London.