Tottenham will target Manchester City striker Edin Dzeko, if they fail to sign Spain international Roberto Soldado, according to the Mirror. However, the north London side are believed to prefer the Valencia goal scorer and manager Andre Villas-Boas has confirmed Spurs' interest in the former Real Madrid forward.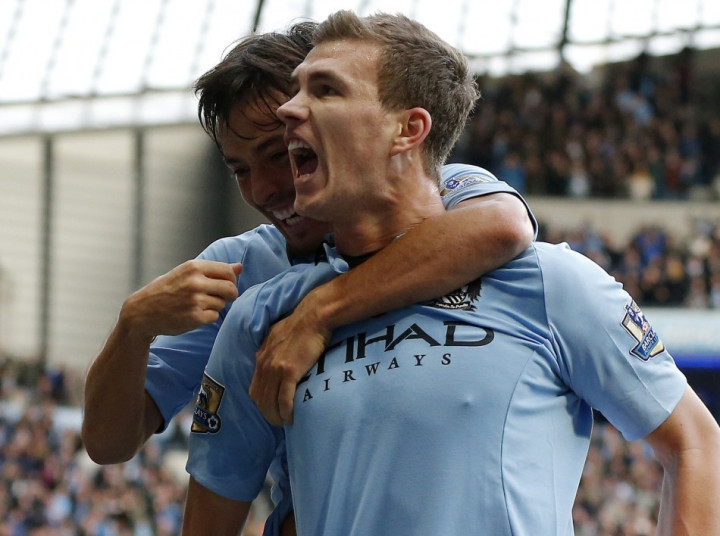 The Mirror believes Spurs have bid £22.5m for the 28-year-old. However, Valencia are adamant that the Premier League side activate the player's release clause of £26m to open negotiations.
There are a few other complications as well. According to the Mail Online, Liverpool are tracking Soldado, in case Uruguay international Luis Suarez does succeed in forcing his way out of Anfield. Brendan Rodgers has invested heavily in Spanish talent since his appointment at the Merseyside club and should he sign the Valencia star, it could be one of the most important incoming transfers in the Reds' recent history.
There is also the matter of a deadline that Valencia have given clubs interested in Soldado. The La Liga outfit's president, Amadeo Salvao has confirmed he will not accept bids beyond 3 August.
Meanwhile, Spurs' potential pursuit of Dzeko could offer the Bosnian international a way out from a potentially disturbing situation at the Etihad. The 27-year-old has struggled for game time with City since his £27m transfer in January 2011, from Bundesliga club Vfl Wolfsburg.
However, it is testament to the striker's goal scoring ability that he has 30 Premier League goals to his name from only 40 starts (77 appearances). Unfortunately for him, he remained third choice last season, behind Argentina internationals Sergio Agüero and Carlos Tevez.
The departure of Italy international Mario Balotelli in January and Carlos Tevez this summer (to AC Milan and Juventus respectively) briefly opened the door for a key position in Manuel Pellegrini's side.
However, the subsequent signings of Spain's Alvaro Negredo and Montenegro's Stevan Jovetic have once again thrown his future into doubt and given this is a World Cup year, Dzeko may well be contemplating a summer transfer.
That said, Pellegrini has come out in support of Dzeko and confirmed the Bosnian is a part of his first team; he scored the only goal of the game in the 1-0 pre-season win over Sunderland in the final of the Barclays Asia Trophy. Indeed, he scored City's only goals of the tournament, having headed in the winner against South China in the previous game.
"I have a lot of trust in him," Pellegrini told Sky Sports, after the striker was named player of the tournament in Hong Kong. "Everyone was talking before I arrived that we will bring in [Edinson] Cavani, [Robert] Lewandowski, all those players. But I always trusted in Edin Dzeko and he is now playing the way I want. I am sure he will continue improving."