Tottenham have agreed to sign defender Vlad Chiriches, and Steaua Bucharest's general manager Mihai Stoica has confirmed the two clubs have reached an agreement over the player.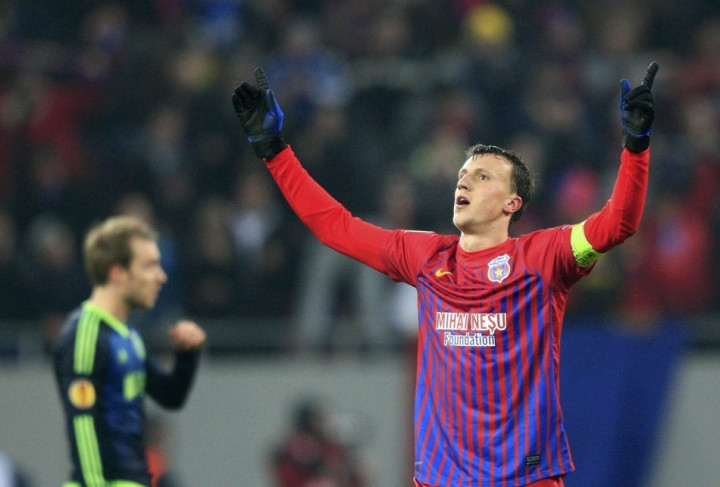 The Romanian international has urged club officials to confirm the deal, but is likely to join Andre Villas-Boas after Steaua's second leg Champions League playoff against Legia Warsaw.
"It was [Steaua president] Becali's wish to let the media know about the transfer, he told us to announce it to everybody. We had to tell Vlad the deal was done. He was with us all day, it was correct to announce it to him," Stoica explained.
The Romanian champions' manager Laurentiu Reghecampf echoed Stoica's comments and Chiriches luck for his move to White Hart Lane. He is hopeful that the central defender will feature one last time in the European fixture in midweek.
"Chiri's condition is good. I'm very happy for him. I told him to have patience and trust. I hope he will help us on Tuesday evening. The club made money on the deal and I'm sure it will lead to a greater team," Reghecampf said.
"I cannot say the amount for which he transferred, but is very high, he'll be the most expensive transfer in Steaua's history. He will remain in history of the club if we manage to qualify for the Champions League," he added.
The north London club allowed Steven Caulker to complete his move to Cardiff City earlier this summer. Chiriches is likely to replace the 21-year-old in Spurs' squad and his addition will give AVB more options in central defence.
Meanwhile, Spurs midfielder Lewis Holtby is delighted after returning to action during his side's U21 fixture against West Ham United. He opened the scoring and played a crucial role in his side's 3-2 win at Upton Park.
"After nine weeks without a game it was fantastic to be on the pitch, to get 80 minutes of football, to have fun and play football - and to score my first goal for Spurs!" he beamed. To score a goal like that gives me real confidence and I feel really pleased that I'm fit and healthy. To be back out there felt amazing," Holtby said.