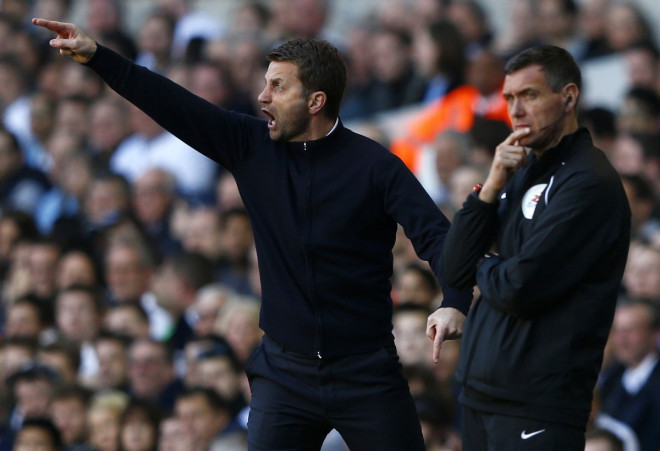 3:25: That's it! What a turnaround for Tim Sherwood's side! It's a repeat of the result at St Mary's three months ago as Spurs take all three points thanks to a sublime late strike from Gylfi Sigurdsson. After being 2-0 down after 27 minutes and looking powerless to stop a free-flowing Southampton, the hosts have given their season a significant boost after a turbulent few weeks. Six points separate them and Arsenal in fourth place now. Is a final push for the top four on the cards? Surely not...
FULL TIME
Tottenham Hotspur 3-2 Southampton
3:22: What a goal! The ball falls to Sigurdsson 25 yards out from goal after Saints fail to clear the danger and the Icelander fires a daisy cutter into the bottom corner to compete a dramatic comeback from Spurs!
Goal! Tottenham 3-2 Southampton (Gylfi Sigurdsson, 90+2)
3:20: Lamber off, Gallagher on for Southampton.
3:18: Shaw wins the ball from Towsend near the corner flag and bursts up field before finding Lallana ahead of him. The Saint skipper draw his man in and then skips past him before advancing on goal and teeing up Ramirez, but his tame shot is blocked. Southampton retrieve the ball and find Lambert in the box but from a difficult angle he drags his shot wide.
3:15: Rose aims a frustrated kick at Ward-Prowse after some neat stuff from Southampton.
3:12: Chadli knocks a long ball down into the path of Soldado who takes a touch and goes for a spectacular half volley from 25 yards out that flies well wide of Lloris' right hand post. Poor choice from the Spaniard, who had at least two teammates better placed than he was.
3:10: Southampton still in this as Adam Lallana digs out a cross from the right for Lambert, but he is just beaten in the air by Younes Kaboul, who knocks his header over the crossbar. Southampton make nothing from the resulting free kick.
3:06: Eriksen is freed down the right flank and looks to curl a cross onto the toe of Soldado who is bursting into the box, but there is just too much on the ball from the Dane.
3:04: Spurs whip a corner intot he Southampton area but it takes a deflection and falls to Sigurdsson on the D. It's come too quickly for him though, and a poked shot weakly rolls out of play. 15 minutes left and it's looking like the points could be shared this afternoon.
2:59: Aaron Lennon departs and is replaced by Andros Townsend.
2:57: Eriksen has hit hat-trick chance! Kaboul plays a wonderful 60 yard pass upfield that Eriksen cuts inside from the right to collect. The Dane cuts into the box and shoots, but Chambers has followed him all the way from the right and makes a crucial blog. It was a brilliant run from Eriksen, but Chambers' tracking was equal to it.
2:54: Just as Spurs were rattled by Southampton in the first half, the visitors have been much the same in the second. There has been a real lack of composure from their players. They respond by holding a decent spell of pressure after Rose gives away a needless foul but it's soon wasted.
2:51: Jay Rodriguez comes off and is replaced by Gaston Ramirez.
2:50: Bentelab does well to win the ball off Chambers near the Southampton by-line but his cut back across goal evades his teammates. Tottenham still very much in the ascendency.
2:46: This time Sigurdsson nearly finds Eriksen, cutting in from the left and turning his man but his inside pass is slightly undercooked, forcing the Dane to pull back. He still manages a shot though, but drives it into the side netting from a tight angle.
2:44: Geat play from Spurs involving their front two again. Soldado chests a long ball down to Eriksen at the half way line and the Dane clips an inviting ball over into the path of the onrushing Chadli. The Belgian isn't able to cut inside but his vicious effort driven at the near post produces a decent save from Lloris.
2:41: While he is still to rediscover his scoring touch, Soldado's hold up play has been excellent today. His presence has been perfect foil for Eriksen who has dragged his side back into this.
2:39: Soldado and Lovren clash again moments later in the channel; it was simply woeful from the Saints defender to be bundled over so easy in the build up to Tottenham's equaliser. The whole complextion of this game has changed.
2:35: Tottenham equalise! And it's another defensive error in a game littered with them. Lovren pulls wide to clean up near the corner flag but Soldado sprints to win possession from him. The Saints defender wants a free kick, but he was never going to get it. Soldado carries the ball up the byline, looks up and places a perfect ball across the box where Eriksen is waiting to tap home. The Dane is now hat-trick hunting.
Goal! Tottenham 2-2 Southampton (Christian Eriksen, 46)
2:31: And we are just about to get back underway in north London with Calum Chambers coming on to replace Nathaniel Clyne at right back while Dembele has been replaced by Sigurdsson for Spurs.
HALF TIME
Tottenham 1-2 Southampton
2:14: Spurs are awarded a free kick after Rose and Ward-Prowse clash on the inside left channel. Eriksen stands over it and whips a powerful effort on goal that Boruc has to palm over the bar. The Dane is dragging Spurs back into this.
2:11: Great chance for Spurs to equalise! Soldado brilliantly cushions a cross into the path of Eriksen who has again burst into the box. He hurdles sliding challenges of Lovren and Fonte but Boruc beats him to the ball. The Dane could have gone to ground before the Saints goalkeeper got the ball...
2:08: Great save from Lloris! Davies dinks a tentative ball inside the box tthat Lallana is onto in a flash. Spurs are again all over the shop defensively and Vertonghen seems too scared to challenge the Saints man who wriggles into a shooting position, but his effort is straight down the throat of the Spurs goalkeeper
2:05: Spurs are waking up a bit here. Lennon scampers down the right and draws a foul out of Jack Cork, The free kick is swung in but falls to Dembele who is 20 yards out from goal, but his effort is driven wide.
2:02: Not a good afternoon for right backs. Nathanial Clyne does his best impression of Kyle Naughton and lets a low cross slip under his foot en route to the far post, where Christian Eriksen is waiting to tuck away an easy finish.
Goal! Tottenham 1-2 Tottenham (Chrstian Eriksen, 30)
1:59: It's two! Steven Davis swings a ball upfield after Spurs partially clear a free kick, but Kyle Naughton again fails to deal with the return. Rickie Lambert retrieves possession, drags the ball past one challenge before sliding a perfect ball through to Lallana who has burst through the inside right channel. His finish is identical to Rodriguez; perfect.
Goal! Tottenham 0-2 Southampton (Adam Lallana, 27)
1:56: Southampton again probe outside the Tottenham area and suddenly a ball ricochets into the path of Shaw, but his effort from 20 yards takes a deflection that carries it just wide of Lloris' post.
1:53: Spurs have been a bit shambolic since that goal went in and Saints are hungry for a second. Lambert brilliantly plucks the ball out of the air before teeing up Lallana, but his shot is straight at Lloris.
1:49: Now Southampton have the lead! Artur Boruc punts a goal kick up field which Kyle Naughton looks to meet with a header. The full back misjudges it terribly however and the ball trickles off his shoulder into the feet of Rodriguez, who advances on goal before opening his body up and calmly slotting past Lloris. Excellent finish from J Rod, awful again from Spurs.
Goal! Tottenham 0-1 Southampton (Jay Rodriguez, 18)
1:46: Another offside decision in Tottenham's favour. It's Lambert who clips a lovely curling ball around the Spurs back line over to the left where Rodriguez has burst through, but the flag is up. Replays suggest that was a close one.
1:42: Tottenham threaten to break as Chadli gallops forward with the ball after being fed by Soldado but his attempt to switch play back into the path of the Spaniard is woeful.
1:40: Tottenham's line looked a bit suspect there again but replays show Jan Vertonghen stepped up just in time to leave Rodriguez in an offside position having been played through by Lambert.
GOAL DISALLOWED - Southampton
1:36: Missed opportunity from Southampton! Adam Lallana dinks an excellent ball over Tottenham's high line to find Lambert who has made a run through the middle leaving Kaboul behind him.The Saints striker shapes to curl one, but then changes his mind and instead looks to play the ball across goal where Lallana is charging into space, but he lifts his shot over the bar.
1:34: Younes Kaboul meets a corner with a thumping header but it's straight at Boruc in the Saints goal. First chance of the game.
1:32: Bentaleb takes a poor touch in midfield and Adam Lallana quickly nicks possession off him and advances on goal. He looks to slide a ball through to Rodriguez who is completely unmarked in the middle but Kaboul intercepts and stabs the ball away from danger.
1:31: Eriksen spreads the play beautifully finding Aaron Lennon bursting down the right but shockingly he hasn't had a look up and drives the ball straight into a Saints defender.
1:30: And Tottenham get us underway at Whtie Hart Lane.
1:22: With the top four moving adrift, Tottenham will battle Everton and Manchester United for a Europa League spot. But having seen the positive effect exclusion from European competition has had on Liverpool this season, would a season without those Thursday night fixtures be a bad thing for a side in Tottenham's position?
1:20: Ten minutes from kick off.
1:17: It's all about the little things in life; Tim Sherwood actually has fit centre halves at his disposal this afternoonn having had to use midfielder Sandro and full back Zeki Fryers in Lisbon three days ago. Younes Kaboul returns from injury and Jan Vertonghen is back after a European suspension.
1:14: For all the talk of Tim Sherwood being replaced this summer, it is worth remembering things didn't start out too badly for their former midfielder. In fact, it was at St Mary's where he took charge of a Spurs side shell-shocked by a 5-0 defeat to Liverpool at home and a League Cup exit to West Ham for the first time. It looked as if things were not about to change under the new manager when Adam Lallana put Southampton ahead after 13 minutes, but Sherwood's decision to recall Emmanuel Adebayor paid instant dividends as he scored twice to inspire Spurs to a 3-2 win. The following day he was handed an 18 month contract.
TEAM NEWS (Southampton): It's as you would expect from Saints. Jack Cork comes in for the injured Morgan Schneiderlin while Gaston Ramirez drops to the bench.
TEAM NEWS (Tottenham): Younes Kaboul and Mousa Dembele return for Spurs after missing Thursday's game in Portugal while Christian Eriksen starts after being left on the bench in that 2-2 draw. Tim Sherwood's love affair with Nail Bentaleb continues while Nacer Chadli's late brace ensures he maintains his starting spot. Adebayor still out.
LINE UPS
Tottenham: Lloris; Naughton, Kaboul, Vertonghen, Rose; Lennon, Bentaleb, Chadli, Dembele, Eriksen; Soldado
Subs: Friedel, Dawson, Fryers, Paulinho, Sigurdsson, Townsend, Kane.
Southampton: Boruc, Clyne, Fonte, Lovren, Shaw, Cork, Ward-Prowse, S. Davis, Lallana, Rodriguez, Lambert
Subs: Gazzaniga, Yoshida, Ramírez, Chambers, Hooiveld, Reed, Gallagher.
1:05: Although Southampton's status as one of the Premier League's only sides without much to play for in the closing months of the season, it's a different story for their bourgeoning English core still looking to impress Roy Hodgson. Adam Lallana, Luke Shaw, Rickie Lambert and Jay Rodriguez have been the driving force behind Saints' impressive campaign and each one of them have carried that form to the international stage when called upon. While the club may not be faced with relegation concern of focused on European qualification, the ambition of this quartet ensures Southampton remain as dangerous a proposition as they were earlier in the campaign.
1:01: Although Tottenham's hopes of qualifying for the Champions League have all but been extinguished, Tim Sherwood must still drag a respectable conclusion to the season out of his injury-hit squad. 11 members of his squad were absent from Thursday's 2-2 draw in Benfica, but their inspired performance did work to lift some of the gloom around White Hart Lane, for the time being at least.
1:00: Good afternoon and welcome to IB Times UK's LIVE coverage of Tottenham Hotspur v Southampton at White Hart Lane.