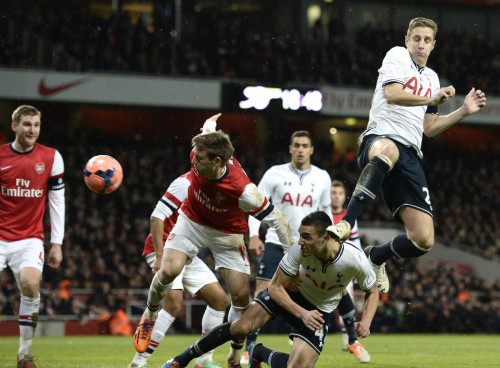 Tottenham Hotspur goalkeeper Brad Friedel is tipping Nabil Bentaleb to have a big future at White Hart Lane after breaking through into the first team under Tim Sherwood.
After his debut appearance against Southampton was following with cameos against West Bromwich Albion and Manchester United, Bentaleb earned starts for the FA Cup defeat to Arsenal and Premier League win over Crystal Palace.
After being promoted from the Tottenham academy, which was formerly overseen by Sherwood during his days at technical co-ordinator, Bentaleb has produced a series of assured showings and Friedel is expecting big things.
"Only time will tell how good he can be," the American stopper told talkSPORT. "He's very good though. He's one of the young players Tim trusts as he knows him very well.
"He's a very good passer of the ball and he's a player who knows Tim's style of play. He wants to get the ball a lot on the half-turn as he looks to play forward.
"He knows Tim wants us to try and find the strikers as soon as possible with good passes. Not just long balls to nobody. Nabil looks like he's got everything.
"With young players they all go through dips in form. We'll just have to see how he comes out of it."
Bentaleb's performances have been indicative of Tottenham's improvement under Sherwood, who has won four of his five league games in charge of the north London club.
With his faith in the young Frenchman having been repaid, Sherwood says he has been pleasantly surprised by the quality of his performances.
"I think he's been great," the Tottenham boss said. "Like I said, when he came on against Southampton, I was sure about him but you never know until you put them on the stage.
"It shows that he's unfazed and, for me, his performances are growing from week to week. He's performing very, very well.
"I know Bentaleb, I know what he possesses. He trains like every day is the last day in the world and that's a great trait to have for a young kid."