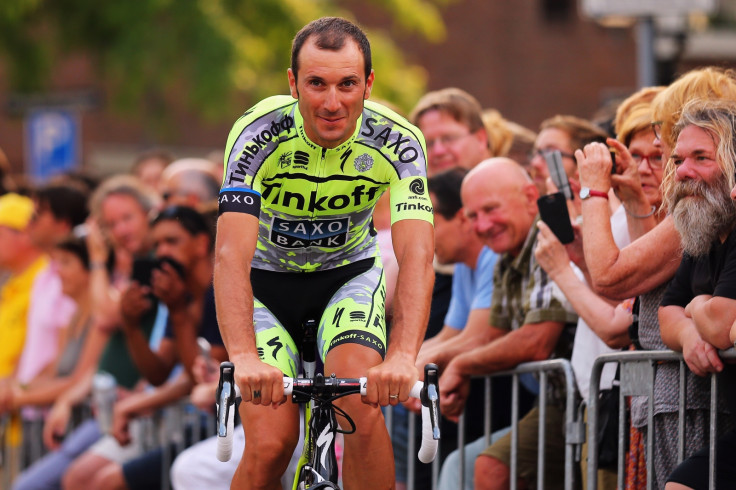 Italy's Ivan Basso has quit the Tour de France after a crash revealed he had testicular cancer.
The Tinkoff-Saxo rider suffered an injury to his left testicle following a crash on Wednesday's Stage 5 from Arras to Amiens.
Basso had x-rays on Sunday after the pain did not go away and they revealed the lump was cancerous.
He revealed the news on the Tour's rest day in Pau on Monday and will return home to Italy for an operation.
Basso, 37, said: "In the crash I touched my testicle on the saddle and for a few days, I felt a small pain.
"We spoke with the doctor of the Tour de France on Sunday and decided to make a special analysis in the hospital.
"The examination gave me bad news. I have a small cancer in the left testicle. It's easy to understand that I have to stop and go back to Italy.
"Our doctor is in contact with the specialist in Italy to fix the operation for as soon as possible."
Tinkoff-Saxo team doctor Piet de Moor hopes Basso, a key support rider for Spain's two-time Tour de France winner Alberto Contador, would make a full recovery.
He said. "We are still waiting for the results of some examinations but the decision is made.
"Ivan has to go home as soon as possible to start his treatment. Depending on what's found, then the further steps in treatment will be decided but for now that's all we know."
Two-time Giro d'Italia winner Basso, whose mother died of cancer in 2005, is a former Tour de France team-mate of Lance Armstrong.
The American returned from testicular cancer to win a record seven Tours, but was stripped of them all for doping.
And Armstrong wrote on Twitter: "Thinking about @ivanbasso and wishing him the very best as he embarks on his cancer journey. #IvanSTRONG!!"
Armstrong will controversially ride stages 13 and 14 this week alongside former English footballer Geoff Thomas, raising money for Cure Leukaemia.
Contador said of the shock news: "We never imagined a thing like this, but now the first thing is to support Ivan and to hope everything will be resolved as soon as possible.
"I'm here just to give Ivan the full support of the team."