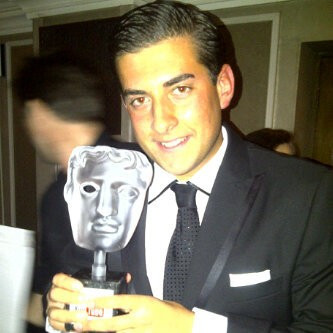 TOWIE's James Argent has revealed that he feared for his life when his car crashed into a deer on a Scottish road on Saturday.
The Only Way Is Essex star was left unharmed but shaken after his terrifying brush with death as he, his manager Neil Dobias and their female driver travelled to the airport following his public appearance at Dundee University on Friday night.
The black Kia that the reality TV star travelled in was left wrecked and blood-splattered after the collision on the A90 around 5.30am.
Speaking for the first time about the details of the horrific crash the 23-year-old said: "I was shaking with fear, I genuinely thought we were all going to die.
"I just saw this huge deer jump across the middle of the road and then heard an almighty thump. I was sure it would come smashing through our windscreen or we'd crash off the road.
"I've heard about deer being hit by cars and still being alive when they smash through the windscreen," He added.
He also told the Daily Mail: "All these things flashed through my mind so quickly. It's the first time in my life I genuinely thought I was a goner."
Pictures have now surfaced of the damaged car following the accident. The disturbing images show the left side of the vehicle's bumper, close to the passenger seat where James was sitting, has suffered the brunt of the collision and has been smashed, exposing the car's battery. The left headlight is also missing and clumps of the deer's fur can be seen stuck to the blood.
According to James, the deer was knocked into the air before being hit by another car travelling in the opposite direction. The singer believes that it would have died from its injuries.
The reality TV is not the only celebrity to have had his life flash before his very eyes; here we have a look at a few stars that have had their own near death experience.