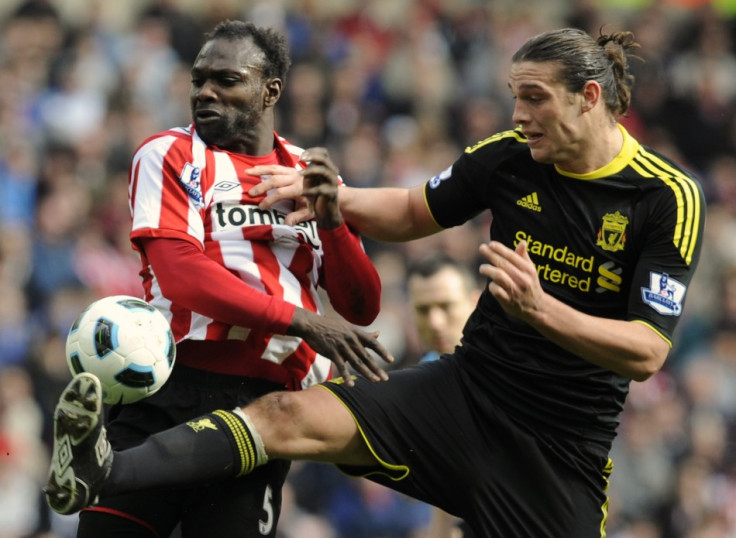 All of the latest football transfers from Liverpool for 23 August 2011. Liverpool are linked with moves for Craig Bellamy, Sebastian Coates and Kevin Doyle. Kenny Dalglish has also commented on the form of £35m striker Andy Carroll.
Liverpool has moved ahead of Arsenal and Manchester City in the race to sign defender Sebastian Coates.
The six foot six inch Coates has been scouted for some time by Liverpool and they are now ready to make a £12m offer according to the Guardian. The newspaper says that Kenny Dalglish is ready to use Luiz Suarez's connection to the player to convince the commanding centre half to join Liverpool.
The Guardian also claims that Kenny Dalglish is ready to offer Manchester City strike Craig Bellamy a return to Anfield.
The Welsh striker has been frozen out at the Etihad Stadium and Roberto Mancini is keen to release the reported £95,000 a week off the wage bill. The newspaper claims that Kenny Dalglish is ready to offer the Welshman a lucrative contract to return to the club he supported as a schoolboy.
Kenny Dalglish has also said that the club had put too much pressure on Andy Carroll in his first months at the club.
The striker has made a slow start to his Anfield career, suffering with injury and lack of form. The Geordie striker has only netted twice in nine games since his £35m move from Newcastle and Liverpool fans are said to be unimpressed so far with his contribution compared to Luiz Suarez.
"Andy's fitness is an improvement since last season because he was never really fit when he came here," said the Liverpool manager, whose substitutions worked to perfection against Arsenal with Raul Meireles and Suarez instrumental in the late victory.
"We pushed him in probably earlier than we should have last season and it wasn't particularly fair on him. It's best to judge him when he's fully fit. Last season, we were a wee bit unkind on him and asked a bit too much of him. This season he certainly looks a lot fitter. Andy is 22. Every time he'll play, people will ask if that's the best he can be. But you never stop. You always want to improve," he continued.
Liverpool have been told to 'get lost' by Wolves manager in their pursuit of Kevin Doyle. The Republic of Ireland striker has been linked with a move away from Wolves but McCarthy has said the striker will not be joining Liverpool, or anyone else, this summer.
"He's inked in in my team every week. I'm just not having it. They might like him, of course they do. I'm certain a lot of them like him. But I really was sincere in the fact that I would now tell them to get lost," McCarthy said.