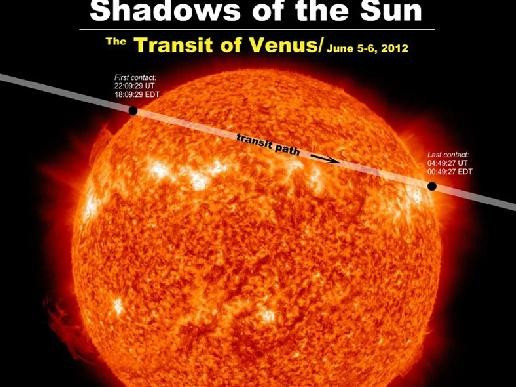 A rare Venus transition would take place on Tuesday giving a spectacular celestial treat to the stargazers.
Venus would be passing across the face of the Sun on 5 June and would appear as a small dark disk. The next transition would happen in 2117.
The transit could be seen at the western Pacific Ocean beginning at 22:09 UTC on 5 June and will finish at 04:49 UTC on 6 June.
The entire transit would be visible over western Pacific Ocean, northeastern Asia, northwestern America, the Philippines, Japan, New Zealand, eastern Australia and high Arctic locations including northernmost Scandinavia, Iceland and Greenland.
Beginning of transit would be visible in North America, the Caribbean, and northwestern South America on 5 June until sunset. However, South Asia, Middle East, east Africa and most of Europe would witness end of the transit on 6 June, 2012.
However, the transit would not be visible in most part of the South America or western Africa.
Venus transits are very rare, coming in pairs separated by more than a hundred years. Fortunately, the event is widely visible. Observers on seven continents would be able to see it.
Meanwhile, astronomers have cautioned against viewing the celestial phenomenon with naked eyes as the Sun's rays could harm the eyes. Scientists and doctors suggested people to use equipments sucha as solar eclipse glasses, welding glass, any type of projection technique or a solar filter to view the Venus transit.
Nasa is planning broadcast this rare event on air. Nasa TV would air the transit live from Mauna Kea, Hawaii. According to the officials, this location offers the best viewing position of the entire transit.