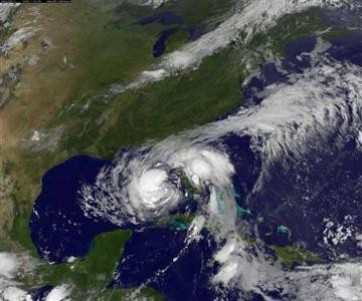 Tropical Storm Isaac is on the verge of becoming a hurricane and is making its way towards the US Gulf Coast and New Orleans, almost seven years to the day since the city was devastated by Hurricane Katrina.
The US National Hurricane Center (NHC) has put in place a hurricane watch for several areas along the coast, including Louisiana and the Alabama/Florida border as the storm's wind speed reached 70 mph.
It was expected to increase to a "Hurricane 1" category - the lowest in a five-point scale - with winds of up to 90 mph.
The NHC warned there was a "significant storm surge and freshwater flood threat to the northern Gulf coast".
Isaac was centred 125 miles southeast of the mouth of the Mississippi River and was swirling northwest at 12 mph.
It has already killed 22 people and caused significant damage and flooding in Haiti and the Dominican Republic.
It could become the first hurricane to hit the Gulf Coast since 2008 and almost seven years to the day since Hurricane Katrina ripped through New Orleans and killed 1,800 people, although Isaac is believed to be much weaker.
Even so, if Isaac strikes at high tide it could cause storm surges of up to 12ft in low-lying areas including South Lafourche and in Houma, a city southwest of New Orleans.
NHC director Rick Knabb warned of the potential danger Isaac could trigger even it remains at storm level.
"Even if it is a tropical storm at landfall, the large size of it will still generate significant storm surge," he said. "That is life-threatening potentially."
Isaac was threatening to dump as much as 18in of rain.
President Barack Obama declared a state of emergency in Louisiana and the governors of Florida, Mississippi and Alabama followed suit.
After Katrina, the US Army Corps of Engineers built a £9bn flood defence system of walls, floodgates, levees and pumps to prevent a repeat of the devastation.
Ky Luu, the head of Disaster Resilience Leadership Academy at Tulane University, said: "I didn't sense any panic. People were methodical and diligent about preparing for this upcoming storm."