As Trump rants about the NFL on Twitter, Puerto Ricans hunt for precious WiFi signals
Puerto Ricans are scambling for contact with the outside world - many still face silence.
Margarita Aponte and her relatives cleared the road in front of her house with two oxen Sunday (24 September), then drove an hour from her devastated hometown in central Puerto Rico to the old telegraph building in the capital of San Juan.
There, thousands of Puerto Ricans gathered for a chance at a resource nearly as precious as power and water in the wake of Hurricane Maria — communication.
"It's ringing, it's ringing, it's ringing!" Aponte, a janitor, screamed as her phone connected to free WiFi and her FaceTime call went through to the mainland.
Her eyes filled with tears as she talked with nephews, uncles, brothers and sisters in Florida and Massachusetts for the first time since Maria destroyed nearly every cellphone and fibre optic connection on this US territory of 3.4 million people.
The low murmur at one of two free WiFi hotspots is occasionally interrupted by the cheering of someone getting through the largely jammed network.
Most spend hours frowning at their phones, unable to connect.
"There's no communication. We're in God's hands," Yesenia Gomez, a kitchen worker, said as she left a message for her mother in the neighbouring Dominican Republic.
Dozens of other Puerto Ricans opted to pull over to the side of the road along various highways, where phone signals are strongest.
Carlos Ocasio, a maintenance worker, picked his way through tree branches and broken glass bottles as he found a spot with a good signal. Soon, he was able to reach his brother in New Jersey.
"My throat got a little choked up and I couldn't talk for a minute," he said. "They're calling me from everywhere, asking when I'm going to arrive."
Others in Puerto Rico and abroad called a local radio station to provide names, numbers, exact addresses and pictures of their loved ones in hopes of reconnecting.
But for hundreds of thousands of Puerto Ricans living on the US mainland, there has been only silence from the island.
Shirley Rodriguez, a resident of New York's Brooklyn borough, said she has more than 30 relatives in Puerto Rico but she is especially concerned about her 66-year-old mother, Mildred Rodriguez, who has diabetes and pulmonary hypertension and lives in Hormigueros on the island's west coast.
Rodriguez last spoke to her family before the storm and her relatives were planning on being together for it. Since then, calls to their phones have gone to voicemail.
"I'm absolutely numb at this point. It's a roller coaster of emotion," she said. "Not knowing is extremely agonising."
Her mother-in-law is in the San Juan area and somehow managed to connect with someone who works for the mayor of Hormigueros, who was able to tell Rodriguez that the area where her parents live escaped flooding. But she still doesn't know what the actual conditions are like.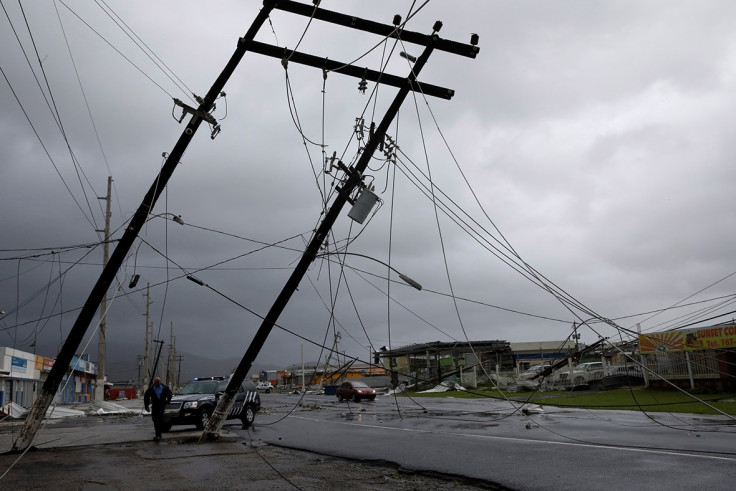 Some in Puerto Rico expressed anger over what they said was a lack of communication from phone providers about which towers were working so they could drive in that direction.
"They're not giving us any information," said Ricardo Castellanos, a business consultant.
"We're in a state of emergency."
Castellanos visits the WiFi hotspots twice a day to try to reach his two daughters in the central town of Gurabo and has been able to send a few pictures to friends on social media of the devastation the hurricane left behind.
As people continued to search for a connection in silence, some occasionally spoke up to offer unsolicited advice. "I didn't move my phone around, and I got a signal," said one woman to a man complaining that he was in a dead zone.
Nearby, retiree Sylvia Calero tapped her phone with impeccably manicured bright orange fingernails as she tried to reach three brothers and three grandchildren in the hard-hit coastal town of Aguadilla in northwest Puerto Rico. She spent an hour walking up and down the upscale Condado district unable to find a signal, before driving to the free WiFi hotspot.
"Zero communication," she said.
Leaning against a boarded-up window, illustrator Avalon Clare from Colorado worried about getting off the island. She and her partner were supposed to fly out of Puerto Rico on Saturday but the flight was cancelled. It was rescheduled for Thursday, but Clare said she had no way to confirm whether that was still the case.
"The only think I can do is text," she said. "We're trying to leave because we can't work without internet [...] we only have half a tank of gas. We're running out of cash. It's just getting harder."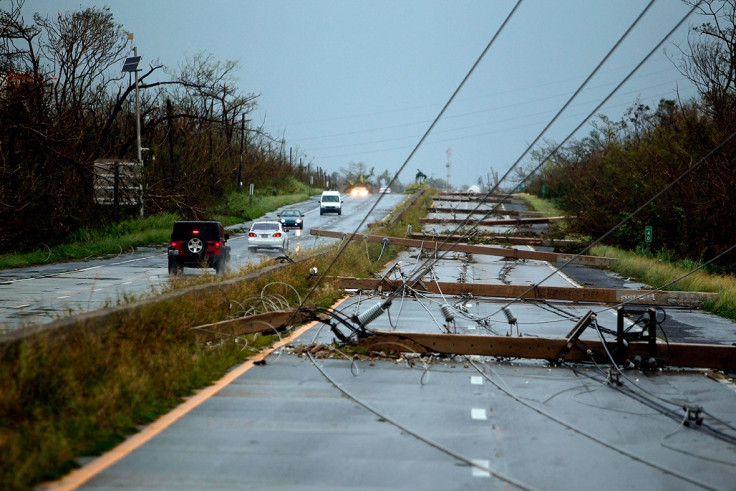 Power line poles lies on a highway
Ricardo Arduengo/AFP
Jenniffer Gonzalez, Puerto Rico's non-voting representative in Congress, urged people to remain calm, noting that the towers of one phone provider that had constant coverage after the hurricane collapsed Sunday.
"Don't become desperate," she said, adding that if anyone was in danger, local officials would have been notified by now.
Only about 25% of towers were working in the San Juan metro area.
Service provider T-Mobile said it reached a deal with other providers to help reconnect their customers, saying callers should use the roaming data option to find a connection. Officials said customers would not be charged extra.
Claro was installing 40 generators to power up its towers, and expected 50 more generators to arrive from the Dominican Republic once a ferry from the neighbouring island is operational.
Governor Ricardo Rossello said a major underwater cable had been repaired, which would allow people to make long-distance calls and improve internet service. Two planes from Spain's telephone company also arrived over the weekend to help re-establish services.
Persistence paid off for many who waited up to three hours to find a signal, including Wanda Nieves, a government worker who stood at one of the free WiFi hotspots.
She heard about it on the radio and drove 30 minutes to reach the site. Nieves spoke to family in Florida and Michigan and did not plan to return for more calls or messages.
"We've already given signs of life," she said. "Now we just wait for Puerto Rico to recover."
© Copyright IBTimes 2023. All rights reserved.