Yahoo's £726m acquisition of Tumblr caused the global headlines both companies hoped for, but now the real work begins as six-year-old Tumblr must play a vital role in saving internet dinosaur Yahoo from obscurity.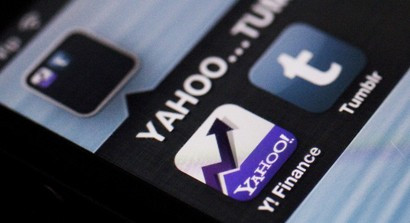 Just last month, Yahoo posted first quarter results revealing an 11% drop in advert revenue - which alone accounts for 40% of the company's profits - as Wall Street analysts queued up to share their disappointment over Yahoo's failing advert business, described by one as a "core business model that needs significant work."
Upset stomach
Advertisements on Tumblr could be the answer to Yahoo's woes, but the blogging service only just started experimenting with selling adverts last year, not long after founder and CEO David Karp said in a 2010 interview that his company was "pretty opposed to advertising. It really turns our stomachs."
Karp will have to take something for that upset stomach, as his company's 50 billion blog posts (growing by 75 million per day) are prime real estate for advertisers, and Tumblr's rich and multimedia-led design lends itself well to big-budget video ads.
Both Karp and Yahoo CEO Marissa Mayer must tread with care however, as there's a good reason why fellow social networks Facebook and Twitter were slow at getting into the ad game - they're wary of the user backlash too many adverts would cause.
Injection of youth
Just a day after the Tumblr deal was announced, Yahoo had such an encounter with angry users complaining in their thousands that major updates to its Flickr photo-sharing site had ruined the service.
Such toy-throwing is usually down to a noisy minority, but it's still a shot across Yahoo's bow, as a similar response from Tumblr users is the last thing it needs. Wordpress boss Matt Mullenweg blogged to say hourly imports of Tumblr blogs over to his service had jumped from around 500 to over 72,000 on news of the Yahoo buyout, but he was quick to backtrack, saying he doubts an exodus is taking place.
Providing it can hold on to them, Yahoo's acquisition of Tumblr brings with it the site's 105 million users, injecting youth into Yahoo, a website most popular (jointly 21%) with those aged 25-34 and 35-44, according to data from Quantcast.
By way of comparison, Tumblr is most popular (29%) with 18-24 year olds and Google is most popular (20%) with the under 18s.
Introducing 100 million users who grew up on the web - and who may well be younger than Yahoo itself - can only be a good thing, so long as Yahoo can tempt them to explore its other services like Flickr and the various news and entertainment pages. These sites remain popular, having recently undergone a redesign, but still look like relics left over from internet 1.0.
Mobile
Another challenge Yahoo faces with its Tumblr purchase is the move to mobile. Facebook was heavily criticised before its IPO last year for not investing heavily enough in producing a profitable mobile ad model when it was clear that users were moving in their droves from desktop to smartphone and tablet use.
Tumblr hasn't yet seen the same shift to mobile, with just 8% of traffic coming from mobile in April this year, but there's no doubt this movement will increase as the post-PC era takes hold.
Once it is more firmly established in the mobile space, Yahoo could integrate Flickr with Tumblr to create a means for users of the photo-sharing site to blog about their work; this makes sense as an evolutionary step from what Yahoo did this week with a Flickr redesign taking the site closer to Facebook and Instagram in its layout and away from its basic, less social-centric roots.
Mayer promised she wouldn't "screw up" Tumblr and it will be left in the capable hands of Karp, but at the same time Yahoo shouldn't be scared of integrating its products. Facebook can afford to keep Instagram at arms length for now because both brands are hugely successful in their own right, but the same can't be said about Yahoo, which will need to rely on the Tumblr name and users to make it cool again.
If Yahoo is an oil tanker - slow, heavy and difficult to turn - then Tumblr is a tugboat - smaller and less powerful, but capable of getting the oil tanker out of trouble and into safer waters.