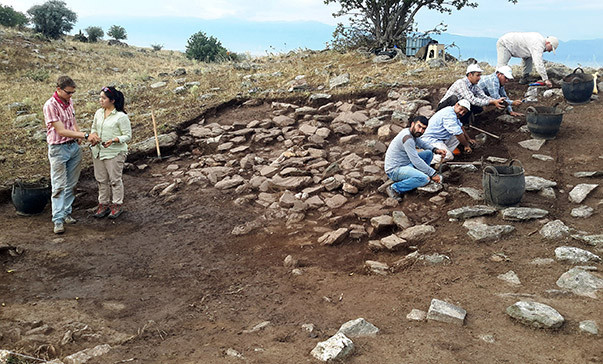 The latest findings from an excavation on Kaymakçı Hill in Manisa's Gölmarmara Lake basin is shedding new light on the Bronze Age and piquing the interests of archaeologists after discovering a settlement bigger than Troy.
Excavations are being carried out in the area of Turkey by US, European and Turkish universities and are unearthing new information about the period from 1600BC to 1200 BC.
Yaşar University professor Sinan Ünlüsoy, the deputy head of the Kaymakçı Archaeology Project, said: "This area is four times larger than the ancient site of Troy in Çanakkale and the largest late Bronze Age settlement that has been found in the Aegean region. When the work is done, we will take a very significant step toward promoting Manisa to the world."
Recent discoveries include a castle where the ancestors of the Lydians resided in a settlement known as Kaymakçı that was cited in texts of the Hittite Empire – which once occupied ancient Turkey. Ünlüsoy is quoted by the Hurriyet Daily News as saying: "Manisa's Salihli district and its vicinity, which is a historical treasure, offer golden opportunities for archaeologists. While excavations have been continuing in Sardis, the capital of the Lydian Empire, other works in Kaymakçı aim to shed light on the region in the pre-Lydian era.
"In a doctoral thesis on the Bintepe tumulus, where the Lydian kings are buried, the head of the excavations, Roosevelt and Luke, reached the preliminary findings in 2001 and made surface surveys there in the summer months for the next 10 years.
"They, together with me, got permission for excavations as part of the Kaymakçı Archaeology Project in 2014 and started solving the secret of the castle from 3,500 years ago. The findings revealed that there were six castles in the Marmara Lake basin in 2000. They were within walking distance. The Kaymakçı castle is the largest of these castles."
The researchers also believe that there is an underground city within the area that they theorise was a capital where Lydian ancestors lived before the conception of money.